You might not be able to fire blanks from this Gunblade recreation like Squall does, but that sure doesn't make the weapon any less deadly. It is, after all, still a sharp blade!
You can watch the entire creation process by AWE me in the video above, and it's a pretty interesting watch thanks to their attention to detail. Plus, you can see cool stuff like this: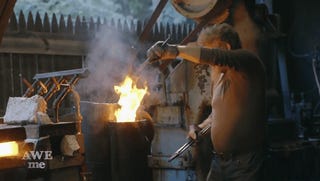 Awesome.
EDIT: this post originally said that you might not be able to fire bullets from the Gunblade. We reworded it, since Squall's gunblade in particular doesn't fire bullets, but rather blanks.
Squall's Gunblade (Final Fantasy VIII) - MAN AT ARMS: REFORGED [AWE me]