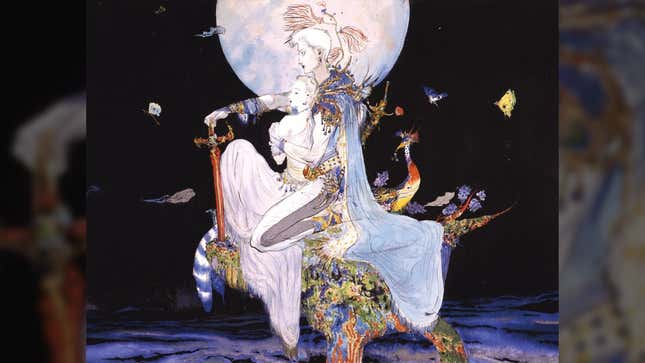 In a recent interview with IGN, three Final Fantasy XVI directors revealed their top three Final Fantasy games of all time. Surprisingly, none of the directors' picks included mainstream fan favorites titles like mega-popular Final Fantasy VII. Instead, the devs earmarked deep-cut Final Fantasy entries not often discussed online among fans as the best game in the long-running fantasy roleplaying game series.
Grand Theft Auto 6 Comments: A Dramatic Reading
Final Fantasy XVI creative director Kazutoyo Maehiro's favorite FF games are (in ascending order) Final Fantasy XII, Final Fantasy Tactics, and Final Fantasy V.

Maehiro recounted playing FFV as a student and being awestruck by its battle system and the "incredible expressiveness" Square Enix was able to pull off with the game's pixel art back on the Super NES. But what forever sold him on FFV being his all-time favorite FF game was a scene toward the end of the game where he witnessed doves flying across the landscape when he first beat the game.

"You could even say I decided to make games because I saw that scene," Maehiro told IGN. "It made a huge impression on me, along with the rest of the polished game. It's a solid No. 1 for me."
Since FFV isn't really a fave in the same way over here as it was in Japan, here's a bit of a refresher on the game. FFV follows a vagabond named Bartz who, upon investigating the crash site of a fallen meteor, joins a party of heroes. The crew try to prevent the corruption of all-powerful elemental crystals from the game's antagonist, Exdeath. FFV Pixel Remaster, which was released in 2021 on PC and in April on the Nintendo Switch, earned a Metacritic score of 82 and a user score of 7.7.

With this in mind, Ryota Suzuki, FFXVI combat director, said his favorite games are Final Fantasy V, Final Fantasy X, and Final Fantasy III. When Suzuki was in grade school, he said he couldn't wait to get home from grade school each day just so he could play more Final Fantasy.

"[FFIII] was the first game I experienced in the final fantasy series. Playing [FFIII] made me understand the appeal of RPGs as a genre," Suzuki said. "With aspects like the ability to change jobs, Final Fantasy III is synonymous with RPGs to me."

When asked which Final Fantasy games were his favorite, FFXVI director Hiroshi Takai replied saying his top three favorites in ascending order are Final Fantasy X, Final Fantasy VI, and Final Fantasy V.

"No. 1 is Final Fantasy V," Takai told IGN. "This is in part because it was the first Final Fantasy I was involved in as a developer. But I love the game for its battle system. It's a solid No. 1 for me within the FF series."

Takai said that he loves FFX, and FFVI for their respective high levels of polish and the heights Square Enix was able to take "the final pixel art Final Fantasy" on the Super NES, respectively.

"As far as how this might be reflected in XVI, I've played every FF game, so I'm sure there may be some influences in there," Takai said. "I think that XVI shares something in common with V in the way players can freely assign abilities to create their own main character."
Read More: Final Fantasy V Retrospective: Wildly Underrated
Final Fantasy fans' reactions to FFV's high ranking
IGN's YouTube video comment section is full of responses from fans big-upping the devs for including FFV as their top-ranked game in the series.

"The fact all three included FFV in their top 3 says a lot about it. Had the game released overseas back in '92, it would've probably been a fan favourite for many," Mizu 64 commented.

"Glad to see all the love for V. People gotta stop sleeping on V, it's one of the best RPGs ever made," Anthony wrote.

"Love seeing FFV getting so much love, it is so underrated, but honestly is just as great as VI imo," PK Starstorm replied.

Final Fantasy XVI officially releases on June 22 on PlayStation 5.