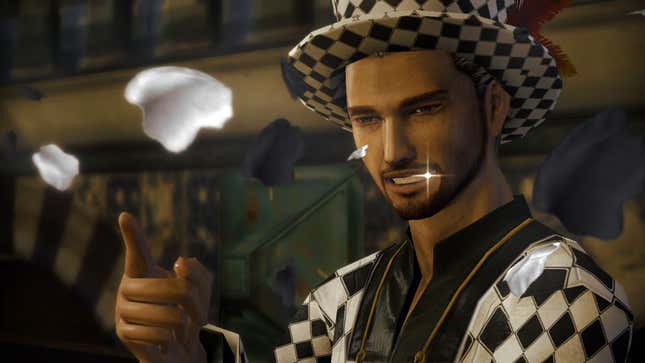 A new study has uncovered a not-so-surprising truth about gender bias in video games: Across 50 role-playing games, male characters have about twice as much dialogue as female characters. Shocking, I know.
This Halo Infinite Map of Zelda's Kokiri Forest Is Absurdly Detailed
The study, "Gender Bias in Video Game Dialogue," was published on May 24 in the open-access journal Royal Society Publishing. Led by Dr. Stephanie Rennick, a research associate in philosophy at the University of Glasgow, and Dr. Seán Roberts, a lecturer at Cardiff University, this is the first large-scale investigation of gender imbalance in the dialogue of a plethora of games, from Final Fantasy XIII to Kingdom Hearts to Star Wars: Knights of the Old Republic and beyond. The researchers found that of all the games examined, 94 percent had more male dialogue than female dialogue on average. This included games that centered women or featured multiple female protagonists, such as Final Fantasy X-2.
It's not just a protagonist issue, though. According to the study, minor female characters suffered greatly, having significantly less dialogue than their male counterparts. The Elder Scrolls IV: Oblivion is a prime example. Across its over 700,000 words of dialogue, minor female characters are more likely to have one particular emotion as compared to minor male characters who, despite playing a small part in the game's overall narrative, are more than four times as likely to be given unique lines of dialogue and more complex emotions in their speech patterns. This disparity also extends to genderqueer and nonbinary characters, which only make up about 30 of the 13,000 characters the researchers studied in full.
There's been some improvement since the medium first exploded in the '80s. Thanks in part to games like Horizon Zero Dawn and Tomb Raider, we're seeing more women take on the role of protagonist. The study noted that from 1986 to 2020, female dialogue increased by 6.3 percentage points per decade. Still, if this incremental trend were to continue as-is, the stark gender imbalance wouldn't reach parity until roughly 2036.
Speaking to Phys.org, Dr. Rennick pointed to three games—King's Quest II, King's Quest IV, and Lightning Returns: Final Fantasy XIII—that were doing something right. Meanwhile, 28 games they studied had significantly less female dialogue than expected.
"While we expected to find a larger proportion of male dialogue overall, we were surprised to discover how few games—just three of 50—had more than 50 percent female dialogue," Dr. Rennick said. "Players seem to share our surprise: When surveyed, they anticipated the general pattern of more male dialogue, but overestimated the number of games where women spoke the majority of the time."
Dr. Roberts told the publication that the content of the dialogue matters, too, not just who speaks it. Since female characters are often relegated to one type of emotion—fear, hesitation, politeness, sadness, etc.—representation really means creating fully realized, three-dimensional female characters that can express the same feelings as their male counterparts without stereotyping.
"Around half of gamers are female, but they experience a lot of abuse and exclusion," Dr. Roberts said. "More diverse representation is being called for by players and developers. So, we hope that developers will consider addressing the imbalances we found in order to create more inclusive games."
Kotaku reached out to the doctors for comment.
It seems we have a ways to go before all players can see themselves in the characters they play. The road may be long, but Horizon Zero Dawn's Aloy and the queer Overwatch characters show that this is possible, and the goal well worth it.