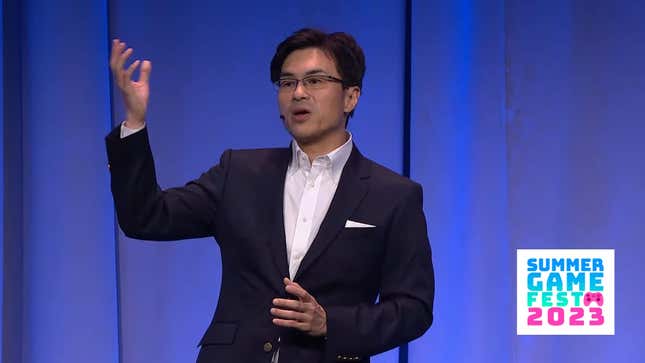 So you've just been appointed the very top job of the gaming company you worshiped as a kid. What do you do? Gush? Gloat? Not Takashi Kiryu, the new CEO of Japanese game publisher Square Enix, who took the moment as a chance to—with immaculate politeness—call out the teachers who condemned him for spending too much of his childhood playing video games. Now he's in charge of the place that's making Final Fantasy, the lauded RPG series.

I Didn't Play Final Fantasy XVI 'Right,' And That's OK
Taking to the stage for Square Enix's Final Fantasy XVI event in June—part of Summer Game Fest—Takashi Kiryu immediately gave the corporation a younger face than it's seen in years.

Appointed as president and CEO of Square Enix just this month, he's replacing Yosuke Matsuda after ten years in the role. Takashi made the bold choice to present the normally Japanese-only show in English, and immediately won over the crowd with what became increasingly apparent as a genuine enthusiasm and excitement to be on stage. This is notable, because while gaming companies put more and more of their developers and executives on stage, few break through for showcasing genuine humanity.
Looking far younger than 47, Takashi delivered lines we've heard a thousand corporate figures say at a thousand corporate events, yet with a degree of believability that felt unfamiliar. "I don't know how you felt when watching that trailer we just saw," he said to the crowd, "but I felt like a kid again." Yeah, sure, they all say that, they all claim they grew up on the product they're here to hawk. Except he carried on.

"...like a young boy, in winter, in 1987, who loved RPGs, who loved Dragon Quest, which came out the year before, and was amazing. I had to get my hands on the big new thing, so as a reward for helping my parents pick oranges, and after begging them for an early Christmas gift, my father bought me the very first Final Fantasy."

It became very clear that this was for real. And the anecdote went on. "Right off the bat, I was surprised. No title screen! Just some story text. I started to wonder if maybe my father had bought the wrong game! But I got to playing, and kept playing, and eventually I left the castle and crossed the bridge and then, the screen changed. That music, that moment, when the title appears, that surprise, that delight, is still seared into my memory."

With the crowd now entirely on his side, in part delighting in realizing the company was in the hands of a complete FF nerd, and part egging him on with delivering his impassioned speech in English, the cheers switched from obligatory to engaged. "From then on, I was hooked," Takashi continued. "I was a Final Fantasy fan for life."

It was then he delivered the real crowd-pleasing moment. Here it is in full:

"Whenever a new title came out, I had to make time to play. Forget homework, forget eating, forget sleeping! I sleep in class anyway. While my friends got into sports or other activities, I was focused on games. I had more than a few teachers tell me, if you play games all the time, you are not going to succeed in life. But! They [will be] very surprised to see me standing on this stage with you!"

Yeah! You know, "Yeah!" within reason. It's possibly not the case that every other kid abandoning all else in favor of the latest Final Fantasy has also become the CEO of the company that creates it. But we can enjoy his vicarious victory.

What a thing, to use that big moment, that first big appearance after getting the top job at one of the top gaming companies in the world, to so calmly and politely throw shade at the dull-minded teachers who condemned his childhood passion and enthusiasm. Let's just hope Final Fantasy XVI can deliver on his childhood nostalgia.