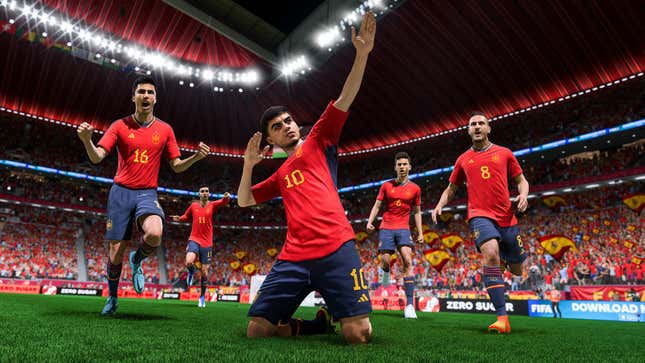 Loot boxes have been a thorn in gamers' sides for as long as they've been around, with lawsuits and players deriding them as exploitative gambling mechanics. EA has been a prominent example of publishers using loot boxes, and its massively popular soccer game FIFA is no exception. FIFA's Ultimate Team, or FUT, card packs have drawn ire from every direction, including an Austrian district court.
Tiny Tina's Wonderlands Coolest Zone Is Easy To Miss
Read More: New Lawsuits Say EA's FIFA Is Basically Gambling
According to a story by GamesIndustry.biz that was first reported by the German publication GamesWirtschaft, the east-central European county of Austria has classified FIFA Ultimate Team card packs as "illegal gambling." Because players can post these digital cards on secondary marketplaces like eBay to make a profit, the district court of Hermagor determined that FUT card packs violate Austria's gambling laws and demanded that affected players be refunded.
Loot boxes are consumable digital chests that contain randomized items. The fact that you don't know what you'll get before purchasing is the central argument as to why critics see loot boxes as predatory monetization tactics that can fuel gambling habits. Still, EA and other publishers claim otherwise, calling the much-derided system "quite ethical" in practice.
The latest lawsuit, filed in 2022 by PlayStation FIFA players against Sony, purports that some claims are as low as €800 (about $845 USD) while others climb as high as €85,000 (roughly $89,725 USD). Sony is cited in the litigation and not EA because the loot boxes in this particular lawsuit were purchased through the PlayStation Store, those affected have contracts with the PlayStation maker and not the publisher. As such, the district court ordered Sony to refund payments to the tune of €338 (approximately $357 USD). The verdict isn't set in stone, though, as Sony still has an opportunity to appeal the court's decision.
Kotaku reached out to EA and Sony for comment.
Read More: EA Says FIFA Players Actually 'Love' The Game's Controversial Loot Boxes
It remains to be seen whether the lawsuit moving through the Austrian district court will have any impact on the rest of the gaming world. For now, it seems Sony may have to open its purse and hand over some money. Maybe the same thing will happen to EA in due time.