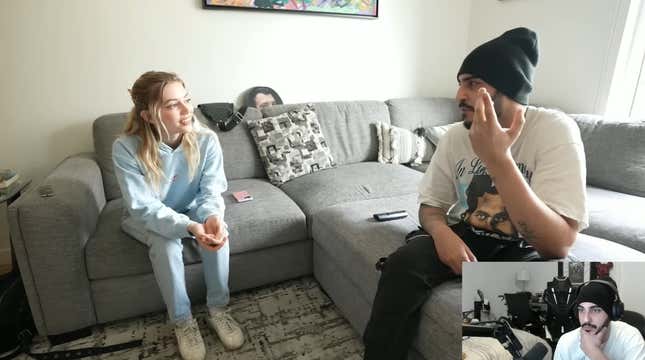 Last week, the massively popular gaming esports and content creator group called FaZe Clan signed Stranger Things season four actor Grace Van Dien. Its community has been in shambles ever since, once again exposing the misogynistic underbelly of some of the organization's fandom. Now Van Dien has locked her Twitter account and removed the FaZe Clan moniker from her bio after founding member FaZe Rain posted a video of the two meeting in person for the first time that ended with the actor leaving in tears.

This Adventure Game Wants You To Leave Society
"FaZe is no stranger to contrasting viewpoints and passionate opinions on the future of the brand," FaZe Clan's official account tweeted on May 31. "Recruitment has always drawn that out. But make no mistake, the mistreatment of our newest member is in no way OK. Grace joined in hopes to bring her voice to FaZe & we stand by her."
It's the sole statement the company, which remains embattled as members lash out at the corporatization of the brand since it went public last year, has made regarding the backlash to Van Dien's signing and the targeting of her by fans and FaZe stars alike. The controversy began when FaZe Clan announced the actor-turned-Twitch-streamer's signing on May 25. Longtime male members like Censor, Banks, and Adapt accused the brand of selling out for some quick clout off the Stranger Things actor's Hollywood popularity rather than her gaming or content-creating chops.
Read More: Stranger Things Actor Says She's Streaming On Twitch More Due To Industry Sexual Harassment
As fans piled on, Rain was particularly dismissive of Van Dien in a reaction video, saying she was just an "innocent girl" who probably had no idea what was going on. The rant turned even more sexist and misogynistic as he claimed she was probably still "playing with Barbies" while he was making his first million, and called her "excruciatingly mid, who I would never let touch me on my drunkest night." Van Dien responded by saying that while Rain was known for trickshots, she knew him as the person who almost overdosed on stream.
The two ended up agreeing to meet in person, which only ended up making things worse. The encounter was filmed and later uploaded to YouTube on May 30 by Rain in an edited format interspersed with additional reactions and comments from him. While Van Dien admitted the overdose comments went too far she confronted him about past sexist remarks, while Rain accused her of getting emotional and not being able to take a joke. At the end of the video Van Dien leaves the room and says if the video was uploaded she would leave FaZe. Her Twitter account is now private and the reference to FaZe in her bio has been removed.
Van Dien and Rain could not immediately be reached for comment. FaZe Clan declined to comment on whether Rain would be sanctioned in any way or if Van Dien was still with the organization.