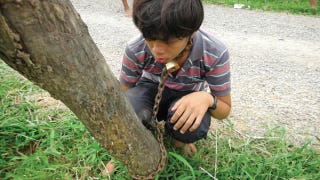 Kotaku East
East is your slice of Asian internet culture, bringing you the latest talking points from Japan, Korea, China and beyond. Tune in every morning from 4am to 8am.
In Batt-ambang town, Cambodia, Sok Thoeun got angry at his 13 year-old son after catching him in an internet cafe, playing computer games.

The elder Sok forcibly removed his son, Khorn, from the net cafe and beat him brutally.
"As well as beating his son, he put chains around the boy's neck and legs and locked him to a power pole on a nearby street in the village, in order to show [his son] to the public," Deputy provincial police chief Colonel Cheth Vanny told The Phnom Penh Post.
After beating and chaining his son, Sok Thoeun split and went back to work, leaving his son. Police arrived on the scene and freed the 13 year-old, sending him home to be with his mother.
According to a lawyer in Cambodia, the father could get up to 20 years in prison under the country's penal code.
Father chains up son over gaming activities [The Phnom Penh Post]
(Top photo: The Phnom Penh Post)