There's one major difference between today's Nintendo Download and our recent installments. Mike Fahey isn't writing this one. And that's why this one isn't as exciting as the recent ones. I mean, he got to tell you people about Pushmo, one of the best portable games I've played all year.
I don't have such great games to tell you about. They might be awesome, but not as awesome as Pushmo. Consider your download options, Nintendo friends. (And pay no attention to the excellent free GBA downloads that Japan just got today... those of us who are non-Japanese 3DS "ambassadors" will get them by year's end, too. Just not today.)
Hey, the Blaster Masters were cool, right, old-timers?
(The summaries below were written by the people behind these games, not by Kotaku.)
WiiWare (Wii)
Carmen Sandiego Adventures in Math: The Lady Liberty Larceny
Publisher: The Learning Company
Price: 600 Wii Points
Bad news, Detective! Someone's taken a bite out of the Big Apple! The Statue of Liberty has vanished and we're pretty sure she didn't just go for a stroll. Only one criminal organization could pull off such an audacious crime-the Villain's International League of Evil! The Chief wants ACME's best agent on this case, and that means you, detective. So grab your gear-you're headed to New York City! Carmen Sandiego is back and only you can foil her V.I.L.E plans. Travel the globe, solve brain-twisting math puzzles, and catch the villain behind the Lady Liberty Larceny.
Crack the case of the Lady Liberty Larceny in single-player Story Mode. Perfect your math skills in single-player Practice Mode. Challenge your friends and family to solve math puzzles against the clock in Multiplayer Mode. In Carmen Sandiego Adventures in Math, you practice your math skills and use them to fight crime. Ideal for grades 4–5, math topics include geometry, logic puzzles, fractions, and much more!
Features
Travel the world, solve math puzzles and fight crime!
Challenge friends to math duels against the clock
Aligned to grade 4 and 5 Math Common Core Standards
Math topics include geometry, fractions, and many more!

Paint Splash (demo)
Publisher: Knapnok Games
Price: 500 Wii Points
Paint Splash turns your TV into an interactive canvas where kids of all ages can enjoy painting using the Wii Remote. Up to four people can paint at the same time so the entire family can participate in creating fantastic paintings using just your Wii Remotes. When you're done painting you can save your images onto your SD Card.
Features:
Turn your TV into an interactive canvas
Up to four people can paint simultaneously
Save images to your SD card
---
DSiWare (3DS/DSi)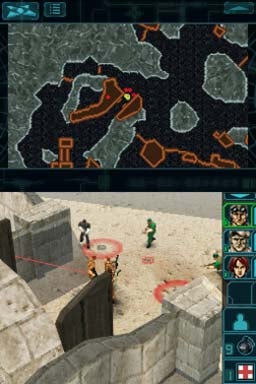 Elite Forces: Unit 77
Publisher: Gammick Entertainment
Price: $7.99
An intense combination of action, military strategy and tactics. Play single or multyplayer mode to complete all the missions. A new and improved version, now with Multiplayer mode. Elite Forces: Unit 77 is an action game with basic tactical elements. Your Unit 77 comprises 4 specialists with different combat skills:
Bill Matic, the "Hacker";
Kendra Chase, the sniper;
T. K. Richter, the explosives expert;
Dag Hammer, the green beret. Drive armored trucks and tanks, defuse mines, locate explosives and rescue hostages. Gather your forces into a crack squad when your enemies are threatening to overwhelm you or control a single game character based on the strategic requirements.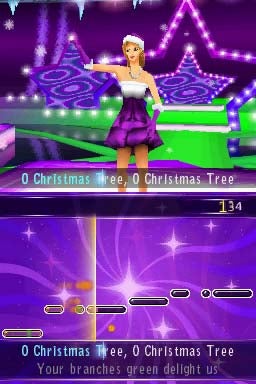 Just Sing! Christmas Vol. 3
Publisher: dtp young entertainment
Price: $1.99
Merry Christmas Karaoke! Storm onto the Christmas stage and celebrate the festival of festivals with two classic Christmas songs: "O Christmas Tree" (O Tannenbaum) and "Joy to the World"! Just sing into the Nintendo DSi microphone and enjoy the festive atmosphere. Hit all the right notes and sing in the correct tempo to reach the top of the highscore list! Rise to the challenge and enjoy the Christmas cheer throughout the year!
Features:
2 Christmas classics: O Christmas Tree + Joy to the World
Karaoke fun: lyrics displayed, just sing into the Nintendo DSi microphone
Festively decorated stage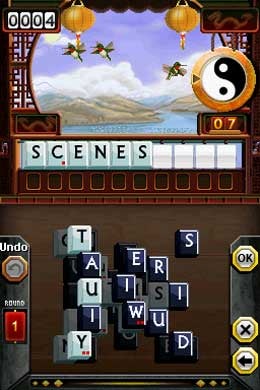 WordJong Arcade
Publisher: Magellan Interactive
Price: $7.99
WordJong Arcade is the sequel to the hit Nintendo DS puzzle game! WordJong mixes Mahjong solitaire and word play. Use letter tiles to create words. WordJong Arcade has 2 new ways to play, ARCADE and YIN-YANG.
In Arcade Mode, use power-ups, multipliers and long word bonuses to get amazing high scores. Spell your way through 8 levels of action. Can you reach the final dragon level and win?
In Yin Yang Mode, test your skills by using only White or Black letter tiles to score. The target color changes each turn, so be sure to plan ahead. Play solo, or challenge a friend with pass-and-play! There are 12 achievements to earn, tons of puzzle shapes and tracking for all high-scores and game stats. For addictive, unique, word-forming fun try WordJong Arcade today!
Features:
A unique blend of word and tile games with unlimited replay value!
2 exciting modes of play: Arcade and Yin Yang!
Jade Tiles for big score multipliers!
Power-Ups for that extra edge when needed!
---
eShop (3DS)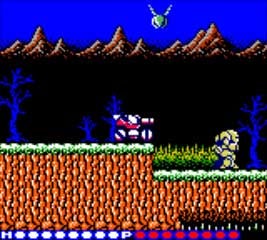 Blaster Master: Enemy Below
Publisher: Sunsoft
Price: $4.99
Proceed with tanks, get off and fight. This is an action game that switches according to the situation. Jason and his legendary battle vehicle, SOPHIA, are back again to save the world. A scientific organization has created a life form whose base structure was a tissue sample from a former foe Jason was supposed to have destroyed. The life form has grown beyond the organization's control, and intends to wage war on all humans. Using the strong weapons and high jumping power of SOPHIA, Jason must head to the subterranean region where the life form resides and eliminate everything in his path. In narrow places, Jason must exit SOPHIA and move through catacombs on foot. In the catacombs, you control Jason in the top-down view and battle with guns and grenades.