It takes some fiddling, but a dedicated fan has made sure that if you want to use the current roster of NFL players in a GameCube sports game released in 2002, you can.
The update for NFL Blitz 2003 (which was also released on PS2 and Xbox) is courtesy of johnz1 over on Tecmo Bowl.org (via Mazzocchi), and while it's technically still in beta—owing to stuff like an inability to change player's skin tones and alter a season's schedule—it works, with rosters correct as of the first week of 2015's regular season and updated uniforms.
Which means the roster isn't 100%—heading into the conference championship games next week there have been injuries, trades and cuts over the past few months—but it's sure as hell more accurate than the game's existing roster from 14 years ago, when the star players would have included guys like Rich Gannon and Warren Sapp
Also, whether you can actually use this is another matter, since to actually enjoy the update you need a copy of the game to be running on your PC via the Dolphin GameCube emulator...
G/O Media may get a commission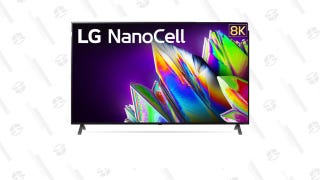 LG 75-Inch 8K TV