The dear departed Midway found a good deal of success in the arcade sports model, notably under NBA Jam and NFL Blitz, titles that were bought by EA Sports and re-released over the past three years. NHL Hitz was not picked up—but that doesn't mean it can't get an update, too.
Modder John Mazzocchi has just released version 2.0 of "NHL Hitz 2013" for GameCube (screenshot above), and it has an impressively deep list of features. Yes, updated rosters (current as of June 2013) are included, but that's only the beginning. National teams on the roster also have been updated, play-by-play commentary has been adjusted to accommodate nearly every player, and even the boards and rink advertisements have been changed to reflect current arenas.
"In my opinion, it's the greatest hockey game ever made, and as far as I know this is the first major roster update ever released for any NHL Hitz game," Mazzocchi told us in an email. It took him about six months to polish this update, which improves upon the 1.0 version he released in January (followed by more incremental updates in April and during the playoffs.)
NHL Hitz had three releases on the Xbox, PlayStation 2 and GameCube—Hitz 20-02, 20-03, and Pro. It featured 3-on-3 hockey full of power-ups and exaggerated action: checking players through the boards, knocking their helmets off and, of course, catching on fire. As Mazzocchi himself illustrates, the game has maintained a solidly loyal following 10 years after its last release on standard definition consoles.
The link to download the mod, and instructions for doing so, are below.
NHL Hitz 2013 VERSION 2 Released!, A NHL Hitz 2003 roster update by Mazz [NHL 04 Rebuilt 2013]
G/O Media may get a commission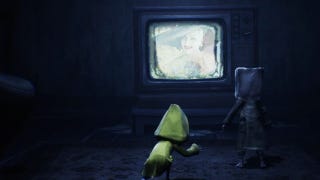 Horror Video Games to Play Leading Up to Halloween
Spooky and scary
Something video games have over their film counterparts when it comes to horror is the player's agency. Sure, watching the slasher claim their next victim can get a jumpscare out of you, but you know what's scarier? Knowing you had the power to stop it. Watching someone slowly open a door and enter a dark room is unnerving, but having to do it yourself will send shivers down your spine and paralyze you with fear.
To contact the author of this post, write to owen@kotaku.com or find him on Twitter @owengood.