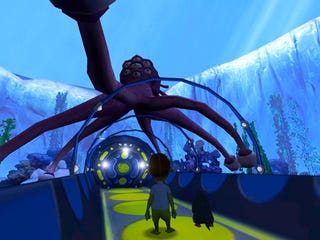 CG movie Planet 51 isn't just getting the obligatory console game tie-in when it hits theaters this November, as Zed Worldwide announces Planet 51 Online, a free-to-play MMO based on the film.
While Sega is handling the console versions of Planet 51, Zed has been busy on Planet 51 Online, perhaps the first licensed MMO to be available on or around the release of the film it is based on. Planet 51 Online is a free game that allows kids to create alien avatars, explore strange locales, and participate in mini-games with their friends and various strangers lurking about the internet.
It might not look like much from the screen or the first trailer, which can be found below, but it's for the children, and they won't mind. The game is set to launch sometime in November to coincide with the movie's release. Keep your eyes peeled at http://www.planet51online.com/ for more information.