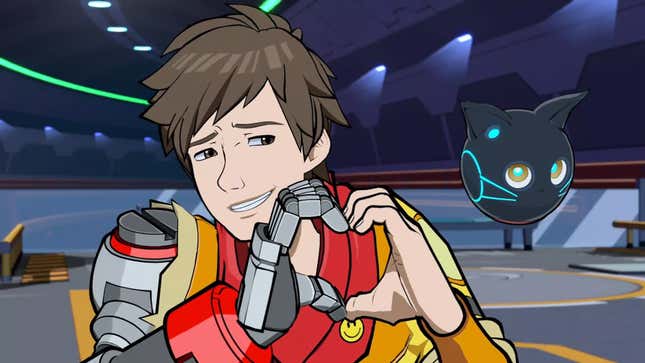 Today, during Xbox's Developer Direct, Shinji Mikami and the developers of The Evil Within surprised everyone by announcing not a new horror game but a stylish, cartoon-bright action game.
The Witcher 3 Meets Tense Roguelike PvE Card-Battling In Rogue Mage
Hi-Fi Rush, developed by Tango Gameworks, is a cel-shaded rhythm action game where players traverse colorful Sunset Overdrive-esque (or Jet Set Radio-style for my old-heads) cityscapes and battle Borderlands-looking city dwellers. You can check out the trailer below.
Hi-Fi Rush - Launch Trailer
Hi-Fi Rush - Launch Trailer
You play as Chai, a Starlord-type character who, with the power of his contraband robotic arm and his arc reactor-looking music player, can see the rhythm of everything around him. Think of a more techno-punk version of One Punch Man's hero, Forte. However, life isn't just a carefree lo-fi beats affair. A maniacal corporation called Vandelay Technologies (perhaps a subsidiary of Vandelay Industries) is on the hunt for Chai's sweet piece of tech, no doubt for its own nefarious purposes. Based on the trailer, Chai won't be bobbing and weaving against robots while bouncing his little GameStop booty to his curated playlist alone. Chai is joined by an eclectic group of freedom fighters who're gunning to take Vandelay down. Groovy.
Music plays an integral part in the Tango Gameworks' rhythm action title. Well-timed hits will reward players with bonuses. Much like those nifty movie trailers that sync their action to movie trailers, the entirety of Hi-Fi Rush's cutscenes and enemy movements are timed to the game's soundtrack. By using visual clues from a floating techno companion, players can time their attacks perfectly and bash the skulls of their adversaries with style.
Tango Gameworks wasn't done surprising viewers with the announcement of Hi-Fi Rush. At the end of its presentation, it announced that the full game, not a demo, will be available to play later tonight (no, really) on Windows and Game Pass.