If you've been on the gaming parts of the internet over the past month, you've probably seen or heard something about the League of Legends World Championship. Having trouble grasping what's going on right now with the most popular video game in the world? Fear not, I'm here to help you understand.
Elden Ring's Top Five Spells, According To FromSoftWare's Stats
NOTE: I will continue to update this post as the 2015 World Championship games unfold. Scroll to the bottom for the most up-to-date information about what's been happening and what games you should look forward to.
Also, on the topic of spoilers, please read our statement on why we've decided to continue reporting eSports results.
Worlds is not the same thing as the League of Legends Championship Series that ended in August.
G/O Media may get a commission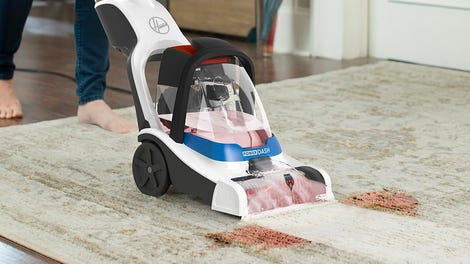 26% Off
Hoover PowerDash Pet Compact Carpet Cleaner
The World Championship is the biggest League of Legends eSports event of the year, but it's not the only one. Far from it, in fact. This might be confusing if you don't keep a close eye on League eSports, since developer and publisher Riot Games has a bad habit of naming things in very hard-to-parse ways.
Worlds is the conclusion of the past year's regional League of Legends tournaments. Throughout the year, League teams compete in their own region to try and qualify to play in Worlds, since there are only a few spots available for each region. The five main regions that feed teams into worlds through their own tournament series are as follows:
North America: North American League of Legends Championship Series (NA LCS)
Europe: European League of Legends Championship Series LCS (EU LCS)
Korea: League of Legends Champions Korea (LCK)
China: League of Legends Pro League (LPL)
Taiwan, Hong Kong, and Macao: League Master Series (LMS)
All the League of Legends eSports stuff that you've heard about up until the beginning of October—all the games and tournaments we covered here at Kotaku—were leading up to Worlds. What makes the event exciting for many League of Legends fans is that it's one of the only chances they get to see the very best players from each region compete against one another. As with any international event, there's some jingoistic pride to this excitement. A lot of League eSports followers have speculated that this might be the first time since the original World Championship games back in 2011 that a Western team will win. Korean and Taiwanese teams have won the past three years.
This is a month-long event with 16 participating teams.
If you haven't been paying close attention to Worlds yet, don't panic. There's still a whole lot left to this thing! Technically, nobody's even been kicked out of the running yet—though there are a few teams that are mostly likely not going to make it past the next round of the competition.
Currently, we're in the "Group Stage." This is a best-of-one round robin event where the teams are divided into groups of four. This format means that every team will end up playing two games against each of the other teams in its group. The two teams who come out on top of these games will continue on in Worlds, while the bottom two will be out.
Riot's LoL Esports site has a slick new look for the 2015 World Championship, complete with an up-to-date schedule that breaks down upcoming games by the day and even by the hour (approximately, some games will last longer than others). Here's how the teams are currently grouped. The italicized names have all been eliminated from the tournament:
Group A:
Counter Logic Gaming (North America)
Flash Wolves (Taiwan)
KOO Tigers (Korea)
paIN Gaming (Brazil)
Group B:
ahq e-Sports Club (Taiwan)
Cloud9 (North America)
Fnatic (Europe)
Invictus Gaming (China)
Group C:
Edward Gaming (China)
SKTelecom T1 (Korea)
H2K (Europe)
Bangkok Titans (Thailand)
Group D:
LGD Gaming (China)
KT Rolster (Korea)
Team SoloMid (North America)
Origen (Europe)
And here's the full schedule for Worlds:

Group Stage (Completed)
Dates: October 1-4 and 8-11

Location: Paris, France

Le Dock Pullman, bâtiment 137, 50 avenue du Président Wilson, 93200 La Plaine Saint-Denis, France

Here are the final results from the group stage, pulled from Riot's LoL Esports site:
Quarterfinals (Completed)
Date: October 15-18

Location: London, England

SSE Arena Wembley, Arena Square, Engineers Way, London HA9 0AA, United Kingdom

Semifinals (Completed)

Date: October 24-25

Location: Brussels, Belgium

Brussels Expo, Place de Belgique 1, 1020 Ville de Bruxelles, Belgium

Finals

Date: October 31

Location: Berlin, Germany

Mercedes-Benz Arena, Mercedes-Benz Arena Berlin, Mercedes-Platz 1, 10243 Berlin, Germany

As you can see, only two teams now remain, both from Korea: SKT and KOO Tigers. Tomorrow will determine who takes home the grand prize.
There are four main ways to watch Worlds live.
If you want to keep up with the action as it's unfolding, here are your best options:
Like the World Cup, following along with the League World Championship might mean you have to wake up early on the weekends or keep some odd hours, since they're all taking place in Europe. This Thursday and Friday's group stage games, for instance, start at 8:00 am EDT, while Saturday's begin at 6:00 am EDT, and Sunday's get started at 4:00 am EDT.
If you can't watch when you're at work or don't want to wake up at 3:50 on a Sunday morning to get your League of Legends eSports fix, don't worry. Riot does a rebroadcast of the entire day's stream a few hours after the original stream ends, which is super handy if you live in a place like New York City and want to organize a viewing party that doesn't begin at 6 in the morning on Saturday. The LoL Esports YouTube channel also posts the videos for individual games if you don't want to watch everything, and they're usually good about getting everything up by the next day.
Keep track of these eSports outlets, too.
Riot has a heavy hand in shaping the narrative and presentation of League of Legends eSports, so a lot of the World Championship games are being introduced and framed by the company's employees in a particular way—emphasizing a specific player-vs.-player rivalry, positioning one team as an underdog in comparison to another team, stuff like that. The drama Riot promotes in the Worlds matches is interesting, but bear in mind: it's not the only perspective people have on a humongous eSports event like this. If you're interested in learning more about Worlds as it's unfolding, I highly recommend going to some outside-of-Riot sources for additional analysis and breaking news. Here are my favorites:
Here's what's happened so far.
We're still early on in Worlds, and the next four days of the competition will be much more drawn-out, high-stakes competition than the best-of-one match-ups we've seen so far. I'll cover each of the quarterfinals games individually, but here are a few general trends to keep in mind as we go into this week.
America got rekt.

Most League eSports followers didn't expect the game's North American region to do that well at Worlds. Teams from the U.S. have never seen much success when put against the highest-level competitors from countries where eSports, and League specifically, are more firmly established. But you could forgive plenty of NA fans for letting themselves get caught up in the swing of things and thinking maybe this would be the year that the U.S. makes it somewhere in Worlds. The NC LCS winners CLG started the group stage strong, and the underdog team Cloud9 continued their spectacular comeback at the beginning they won all three of their first games.
NA teams' success stopped there. In the second round of Worlds that concluded this past weekend, U.S. teams lost every single one of their games, meaning all three teams were eliminated. Ah well.
China wasn't as strong as everyone thought it'd be.
The biggest surprise of Worlds so far is the swift and unexpected downfall of the thought-to-be-great Chinese team LGD Gaming. Everyone expected them to start strong and only falter in the face of serious competition, but they ended up losing all three of their beginning games. They lost to the Korean team KT Rolster:
...and their game against the European team Origen which many expected them to win:
They even lost their game against the American team Team SoloMid (TSM).
Gu "Imp" Seung-bin, one of LGD's star players, is already a World Champion player, having won the final game in 2014 with his former team Samsung Galaxy White. Imp was one of the many star Korean players who was brought over to China following the 2014 World Championship. Going into Worlds this year, there was a lot of hype about Imp facing off against Lee "Faker" Sang-hyeok, who's still on SKT and is considered to be the best League of Legends player in the world. It was going to be a symbolic confrontation, in part: Korean vs. Chinese teams, but also a 2013 world champion facing off against a 2014 one. The showdown never ended up happening; LGD went 2-4 in the group stage and got eliminated before they ever had a chance to face off against SKT. Though they did end up losing very badly to fellow Korean team KT Rolster:
LGD's poor showing at Worlds shocked a lot of League eSports followers because it ran against the grain of overarching trends that've been developing for years now. Korean teams ended up winning Worlds in 2013 and 2014, but by the second year Chinese teams were starting to make their way toward the top of the ladder as well. The country's sudden success was largely thanks to the fact that rich team owners poached top-level Korean players from their original teams. You can get an overview of this facet of League eSports history in this excellent profile of Faker done by the ESPN magazine.
Edward Gaming, the last Chinese team in Worlds, was eliminated during the quarterfinals when they were beaten by Fnatic.
Europe was very strong, but not strong enough to beat Korea.
The U.S. might have tripped and stumbled straight out of the gate, but it wasn't the same for Europe. The top two European teams, Fnatic and Origen, both came out swinging in the group stage games. Both ended up going 4-2 and making it into the quarterfinals, where Origen pulled off a surprisingly effortless win against Flash Wolves. Fnatic beat China's Edward Gaming and advanced to the semifinals as well. But then both teams tilted when faced with the strongest Korean teams in the tournament.

Fnatic has long been regarded as one of the best League of Legends teams there is, but they're only just starting to regain their former glory thanks to a dramatic shake-up last year that lead the team to basically remake itself and jettison four of its starting players. The changes clearly worked for them, as they dominated the EU Championship Series this year. They got the 2015 Worlds off to a very aggressive start when they forced Invictus Gaming into a surrender—something that rarely happens in pro games, at least at this level.
Fnatic actually lost their first game against C9 and the Taiwanese team ahq, so they seemed like they were down and out at the beginning of the group stage. But then they came back and cleaned house in the second half of groups, going 3-0 to bump C9 and Invictus Gaming out of the tournament and secure themselves the top spot in their group. They continued their comeback in the quarterfinals by winning handily against Chinese opponent EDG.
Expectations were very high for Fnatic going into the semifinals. Many eSports followers thought from the beginning of Worlds this year that the finals match-up was going to be Fnatic vs. Korean powerhouse SKT. Unfortunately, Fnatic's run took a sharp turn for the worse in its semifinals games against KOO Tigers. The first match was hard fought and nail-bitingly close, and ended up going in KOO's favor:
After that, Fnatic seemed to lose all of its momentum. Game two and game three both started out in KOO's favor and Fnatic never managed to catch up:
Origen was a bit more of a curiosity than Fnatic. This is mostly just because they're very new and uncontested as a pro team. The team was only founded in December 2014 when Enrique "xPeke" Cedeño Martínez decided to leave fellow EuropeanLeague team Fnatic. He ended up recruiting Paul "sOAZ" Boyer, another strong pro League vet, as well. Thanks to their strong roster hey also came out swinging this year with two of the best European League of Legends players ever—Cedeño and sOAZ are the only two pros who've managed to qualify for four different World Championships.
Origen started Worlds strong with a 3-0 lead in the first half of the group stage, but they began to falter in the second half. The team only ended up winning one more game in their second round in groups. This meant they were able to continue on in the tournament...but making it into second in their group wasn't particularly impressive. They were grouped with the Chinese team LGD Gaming and American team TSM, both of which were very weak, so all Origen really had to do in the first part of this competition was survive against Korean powerhouse KT Rolster as best they could.
Whatever doubts people might have had against Origen were put to rest in their semifinals match-up against SKT. Sure, they ended up losing 0-3. But they were playing against the best team in the world. And still they managed to put up a fight...until the very last game, at least. Their top laner out-maneuvered two SKT players at the very beginning of the first game with some seriously impressive jukes. A lot of fans are calling it the best play of Worlds—so far, at least.
SKT hasn't even broken a sweat yet.
League fans are keeping a close eye on the 2013 World Champions SKT and their star player Faker, with everyone wondering if this will be their triumphant comeback after their fall from grace in 2014. After winning worlds in 2013, SKT lost many of its top players and struggled through the season while their local rival Samsung Galaxy White (yes, a team named after a smartphone) rose to the top of the competition and won the whole thing. Nothing remarkable has happened with SKT this year... yet. They've won all six of their games so far, but those match-ups were barely even a contest. Faker hasn't pulled off any of the insane, seemingly inhuman plays that made him such a huge star in the League world in the first place, simply because he hasn't really had to. Riot did a lot to promote Faker's face-off against Ryu "Ryu" Sang-wook in the SKT vs. H2K game, for instance—even releasing a trailer to hype the match up as a chance for Ryu to finally get revenge on Faker for absolutely wrecking him in a past confrontation.
But then the game ended up being an easy win for SKT:

How easy has the competition been for SKT so far? The team hasn't even put Faker in all of the games they've played so far, preferring to let his sub go in and keep their star players' strategies and techniques for this Worlds more of a secret. Faker returned to the starting lineup this past weekend for SKT's quarterfinals match against the Taiwanese team ahq e-Sports Club. That ended up being a pretty efficient steamrolling as well. As did their semifinals games against Origen.
What to watch for tomorrow.
Tomorrow KOO Tigers and SKT square off in the grand finals. It starts very early for those in the U.S.—at 7:00 AM EDT, though the games aren't supposed to start until 8:00 AM.
This is the first year that Korea's had both of the top teams at Worlds. SKT is still expected to win ultimately—KOO wasn't even supposed to make it this far, remember. But this will still be the hardest challenge SKT will face at Worlds. Their star play Faker hasn't really pulled out all the stops yet and performed any of the masterful plays that made him famous. Will he finally have to tomorrow? League is still a team game, at the end of the day, and SKT just seems to have an unparalleled ability to work together as a team.
I'll continue to update this post and write other breakout pieces on Worlds as the tournament progresses. If you have any tips or suggestions, please don't hesitate to contact me by email at yannick.lejacq@kotaku.com. You can also find me on Twitter at @YannickLeJacq.
All photos courtesy of Riot Games' Flickr.