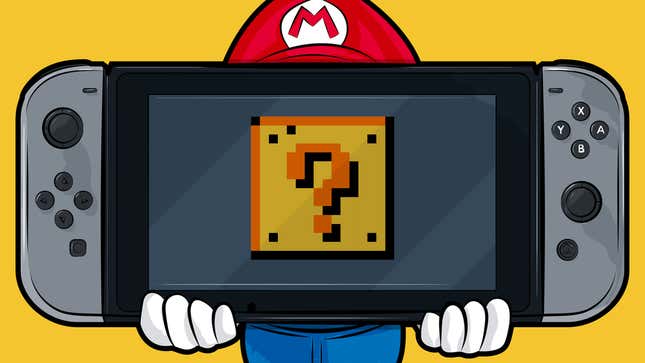 Nintendo just announced a bunch of new info about their new console, the Nintendo Switch. Here's what we learned during the big show.
THE DATE AND PRICE
The Nintendo Switch will launch worldwide on March 3, 2017 and will cost $300 in the United States.
Here's what that $300 will get you: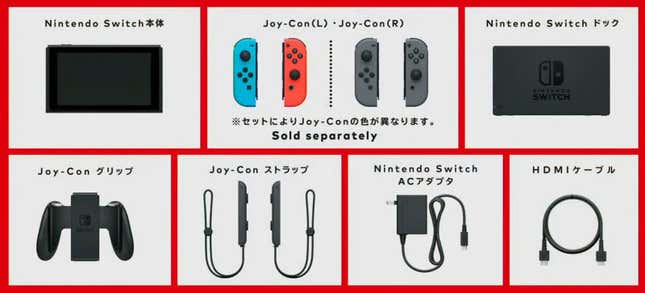 THE CONSOLE

The Switch is a hybrid handheld/set-top gaming device that you can play on your TV or on the go. We got our first official look back in October, though various facts about the console had been heavily rumored over the course of 2016. Today at a Nintendo Switch event, Jason got to use the console himself. Read his hands-on impressions here:
G/O Media may get a commission
Save all week long
Discover Samsung Event Week-Long Deals
At launch, you'll be able to buy one of two different versions: a Switch with grey Joy-Con controllers, and one with multi-colored controllers.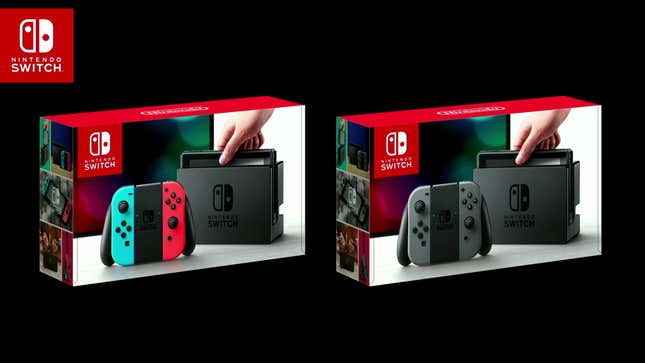 The Nintendo Switch Dock will allow the Switch to plug directly into your TV, using either a separate Nintendo Switch Pro Controller or the included Joy-Con controllers to play it like you would a normal set-top console.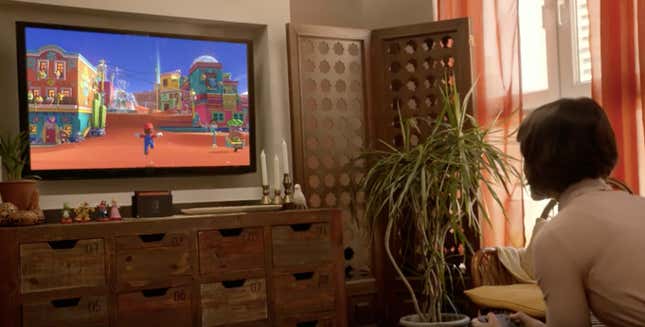 What sets the Switch apart from other consoles is the fact that you can remove it from the dock at any time and immediately resume playing on the go.
While in handheld mode, you can also connect up to eight Switch consoles locally via wifi for local multiplayer games like Mario Kart 8 and Splatoon 2.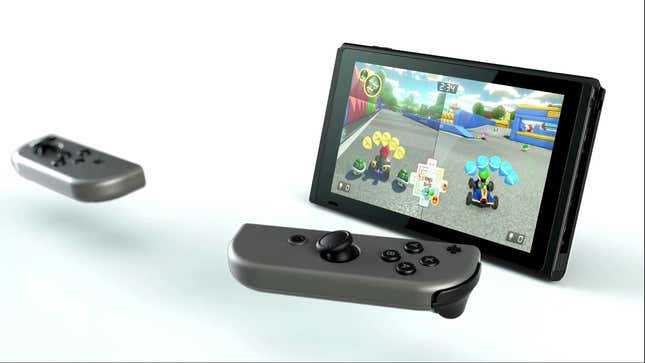 At the press event Friday, we did some Switch size comparisons. You can check those out here, though this comparison with a Wii U controller gives a good sense of how big it is: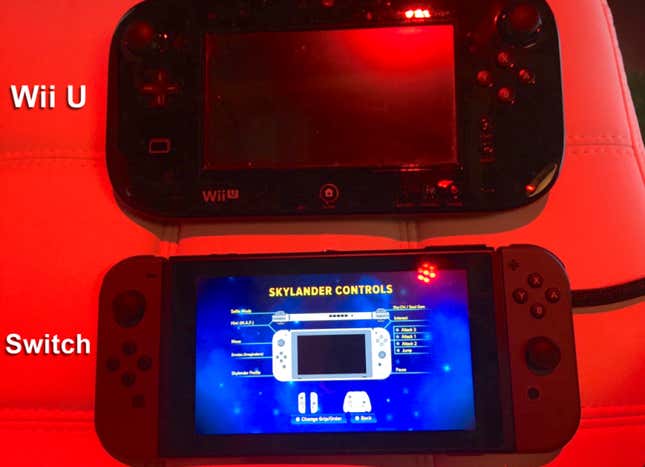 THE ONLINE SERVICE
The Switch will launch with a new online service. It'll be free at launch, but in fall of 2017 Nintendo will start to charge for it. According to Nintendo, subscribers will get to download and play a NES or Super Nintendo game "for free for a month," and those games will have newly-added online features. Polygon confirmed on Friday that the free games will only be playable for the free month, after which users will have to pay to continue playing.
The Switch network will also have some sort of smart-device integration. Per a Nintendo press release:
The service includes a smart-device application available in Summer 2017 that will let users invite friends to play online, set play appointments and chat with one another as they play compatible games.
NO STREETPASS, NO MIIVERSE
At Friday's press event, Nintendo confirmed that the Switch won't feature the 3DS's addictive Streetpass system, nor will it support Nintendo's Miiverse social network. Onward to new horizons, I suppose.
THE SCREEN
In handheld mode, the Switch will output video to its built-in 6.2-inch, 720p display. The screen also uses a capacitive touch panel.
THE BATTERY LIFE
Nintendo claims the Switch can get up to 6 hours of battery life, but "will vary depending on the software and usage conditions." As a for-instance, they say The Legend of Zelda: Breath of the Wild can be played for 3 hours on a single charge. The handheld Switch can be charged while you're playing with the Switch's included AC adapter, which goes into a USB-C plug on the handheld unit.
THE STORAGE CAPACITY
The Nintendo Switch will come with 32GB of internal memory. (Gasp!) However, it can be easily expanded using microSDXC cards. (Phew!)
THE CONTROLLERS
The detachable Joy-Con controllers have a pretty silly name, and hopefully we'll just start calling them Switch Controllers before too long. For now, though, Joy-Con it is. (Per Nintendo, the plural of Joy-Con appears to be "Joy-Con.")
You can also use a Nintendo Switch Pro Controller, which will go for $69.99. You can buy a second set of Joy-Con for $79.99. Individual Joy-Con go for $49.99. They ain't cheap.
The Joy-Con can be popped off the side of the Switch like so...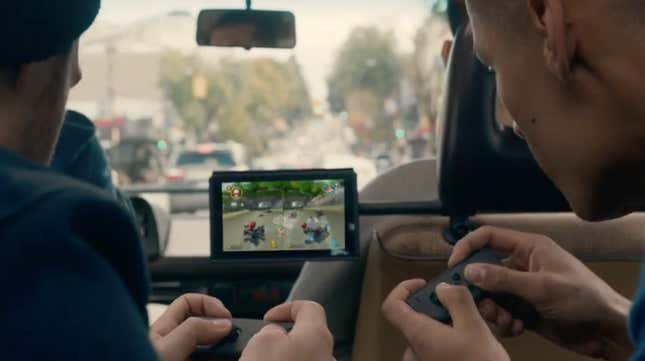 ..and used to play two-player games.
Each Joy-Con has a joystick, four face buttons, an accelerometer, and two tiny cute little L and R shoulder buttons.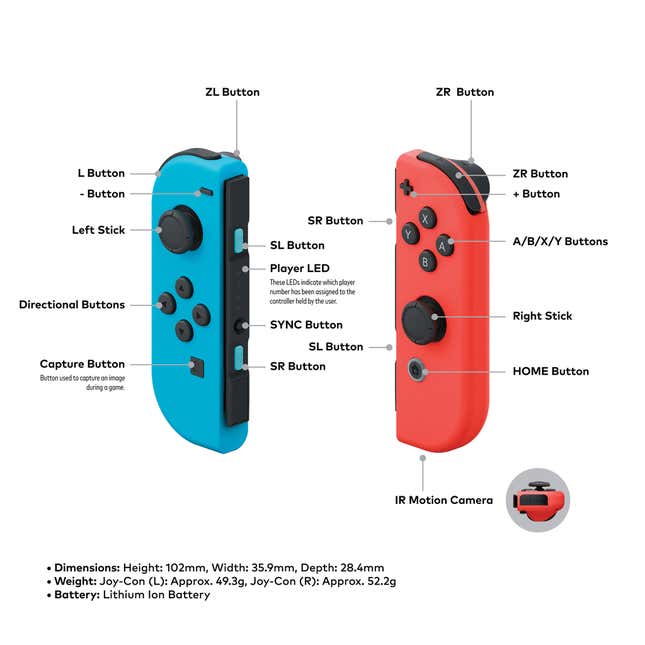 The right Joy-Con has an IR camera that can tell how far your hand is away from it—for example, it can tell the difference between a hand making rock, paper, or scissors. It also has a NFC reader/writer, which can read Amiibo data. The left Joy-Con has a "capture" button similar to the PS4, which will let you capture screenshots as well as, eventually, video. Both Joy-Con have got some allegedly nifty vibration features, and the Nintendo demonstrator was pretty high on what he called "HD Rumble."

The Joy-Con can be attached to a Joy-Con Strap that slides over the long end, adding a wrist-strap and more prominent L and R buttons. They can also be combined with a Joy-Con Grip in the middle to form a single controller with the same number of thumbsticks and buttons you'd find on a Nintendo Pro Controller.

You can watch a demo of the Joy-Con here:
THE LACK OF REGION LOCKING
Unlike past Nintendo consoles, Nintendo Switch will not have software region locking. Rejoice!
THE GAMES
Nintendo started their games demonstrations with a collection of minigames called 1 2 Switch, which players can play with two Joy-Cons away from the screen. You kinda gotta watch the trailer to fully get how this one works:
It looks like there'll be minigames like tennis, wild-west quickdraw, swordfighting, magic casting, and more. Each game involves standing next to the screen and looking directly at your opponent. 1 2 Switch featured the most non-traditional type of gaming at the event, and it'll be interesting to see if we get more off-screen Switch games as we go.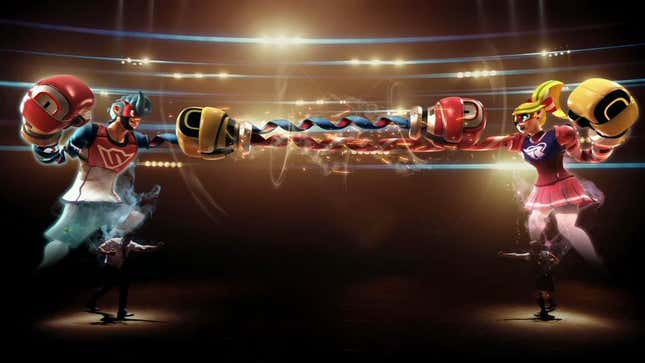 Arms is a more straightforward Switch exclusive. It's a fantastical fighting game where players use the controllers to shoot huge, stretchy boxing gloves at one another. It looks very Nintendo, and pretty fun. You can control your punches and even curve long-range punches by tilting and twisting the Joy-Con as you play. You can play online, locally with an extra set of Joy-Cons, and can also play locally with another Switch. Gonna be a lot of sore arms because of this one.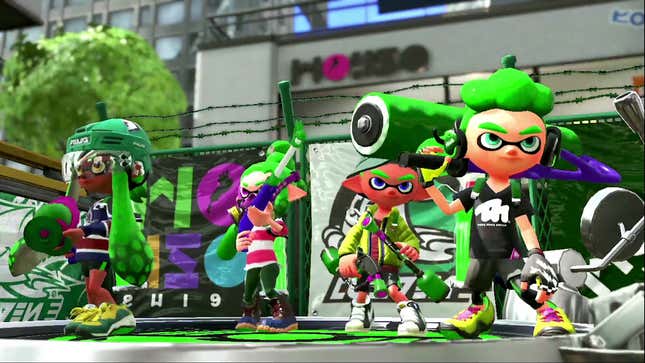 Next we got a look at Splatoon 2, a sequel to the widely loved Wii U multiplayer shooter. You can play the game with the Joy-Con, or with the Switch Pro Controller. It'll also support gyro controls. This one will also support online multiplayer, as well as local competitive play with other Switch owners. It'll be out summer 2017.

After that came a little Italian fellow you may have heard of named Mario. (Or is that Wario? THE TRUTH IS OUT THERE.) Nintendo showed off a new 3D Mario game called Super Mario Odyssey. It looks really, really good. I want to play it right now. There were electric guitars and a giant mech climbing a skyscraper? Bowser had on metal boots?
In this game, Mario will be leaving the Mushroom Kingdom for the real world, with cities and other real-world settings turning up as levels in the game. Mario also has a special cap (with eyes!) that will "play an important role in [his] journey." Nintendo describes it as a "sandbox-style" game, and it'll be out Holiday 2017. Basically, it's a new 3D Mario, folks. Buckle up.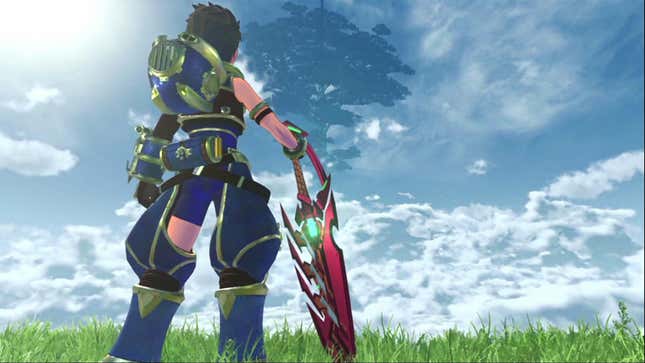 Next Nintendo briefly showed Xenoblade Chronicles 2, which sure looks like some JRPG shit that Jason will love. Or not, based on the fact that I don't think he liked the first Xenoblade Chronicles. They also showed a short teaser for Fire Emblem: Warriors, a new Shin Megami Tensei game, and a new Square Enix JRPG called Octopath Traveler.
With the JRPGs taken care of, Bethesda's Todd Howard turned up to announce Skyrim is indeed coming to the Nintendo Switch as expected.
Near the end of the event, Nintendo showed a sax-tastic sizzle reel with a ton of third-party games including Minecraft: Story Mode, Rayman Legends: Definitive Edition, Has Been Heroes, Project Sonic 2017, I Am Setsuna, Skylanders Imaginators, Nobunaga's Ambition: Sphere of Influence, Puyopuyo Tetris S, Disgaea 5, Minna de Waiwai! Spelunker, Sangokushi 13 with Power Up Kit, Dragonball Xenoverse 2 (temp title), and Farming Simulator. You can watch that clip here:
Go get it, saxophonist!
At the very end of the show, Nintendo showed a ridiculously hot trailer for The Legend of Zelda: Breath of the Wild and announced that the game will be out on March 3 along with the Switch. Hell of a launch game, that.

In a press release sent after the event, Nintendo detailed Mario Kart 8 Deluxe, will be a Switch port of the Wii U game that'll allow up to eight people to play in local multiplayer. It'll add a few new characters including the Inkling Girl and Boy from Splatoon, King Boo, Dry Bones and Bowser Jr.. Battle mode has been revamped (yes!!) and will include Balloon Battle and Bob-omb blast with some new stadiums and returning classic battle mode maps. It'll miss the Switch launch but will be out shortly afterward on April 28.
Also Confirmed: Shovel Knight, Minecraft, Just Dance 2017, Dragon Quest X, Dragon Quest XI, Dragon Quest Heroes 1 &2, FIFA, NBA 2K, Super Bomberman R, Ultra Street Fighter II: The Final Challengers, Steep, and an action-puzzle game called Snipperclips: Cut it out, together!
Most of those games will come out after the Switch launches in March. On Friday, Nintendo tweeted this image with the release dates/windows for a bunch of Switch games: