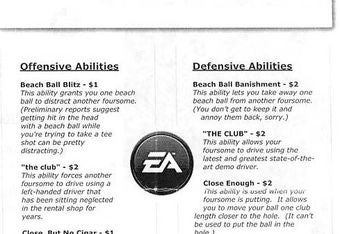 Last week's DICE summit kicked off with a game of golf in the Nevada desert. To keep things interesting, and raise a bit of cash for charity, Electronic Arts added microtransactions to the game.
We heard about the event through some of the coverage last week. It involved golfers buying power-ups that could move golf balls, allow you to kick a ball into the water or arm golfers with beach balls.
Hit up MTV's Multiplayer for the full menu of options. They should look at adding this to the PGA.
EA Transformed Golf Last Week, Adding Beach Balls And Microtransactions [Multiplayer]