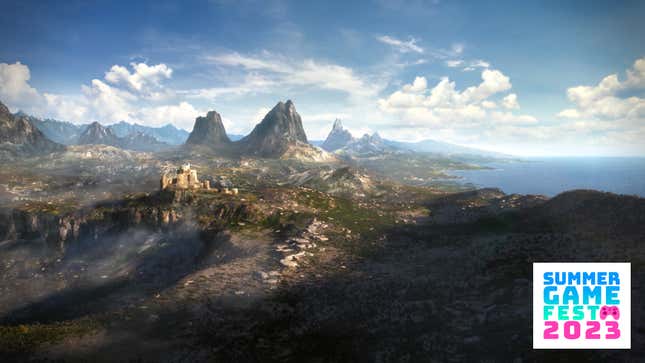 With Starfield, Bethesda's next big mega-RPG on the near horizon, and the hotly anticipated sequel to Skyrim expected at some, likely distant, point after that, the studio sure has its hands full with crafting enormous worlds. But for Starfield's game director, Todd Howard, Elder Scrolls VI might be his final game in the series.

Nintendo Showcase Standout Gunbrella Has The Best New Video Game Name Of 2022
Signing on to work at Bethesda Softworks as a producer in the mid 1990s, Howard has worked on every Elder Scrolls game since the second entry, Daggerfall. He's also served as game director on Fallout 3 and 4, and was the executive producer on Fallout 76. Elder Scrolls and Fallout are not only massive games, they've been wild successes for Bethesda. Fallout 4 notably sold 1.2 million digital copies on Steam in its first day. And Skyrim, as of 2016 alone, had sold 30 million copies. As one of Bethesda's public faces, Howard has never been shy about hitting the stage during various press events to introduce and show off the studio's work. During an interview with IGN, the famed game director admitted that, at 52, he's considering the studio's next fantasy epic as potentially one of his last.
Reflecting on how the studio has shifted its development process, moving to support singular entries after release instead of moving on to the next game, Howard said that time and age is sort of spelling out that Elder Scrolls VI might be his final Elder Scrolls production..
As we look to an Elder Scrolls VI, that is one where, I probably shouldn't say this. But if I do the math, I'm not getting any younger. How long do people play Elder Scrolls for? That may be the last one I do. I don't know.

Elder Scrolls games are notoriously massive. And in recent years, Bethesda has taken to rereleasing the last entry, 2011's Elder Scrolls V: Skyrim with near-comical levels of frequency. Exhaustive re-releases aside, Given that colossal scope and scale, it makes sense that Howard is eyeing the next as his potential last.
---
Kotaku is covering everything Summer Game Fest, from the main show on Thursday to other events happening throughout the next week. Whether you're into larger-than-life triple-A games or intimate, offbeat indies, you can keep up with all things SGF here.