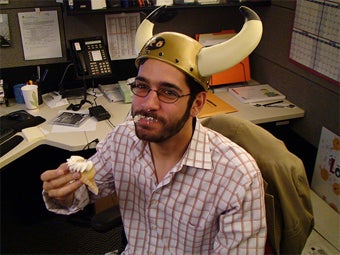 Fat Princess developer Titan has developed a rather novel process for selecting 250 beta testers for the PlayStation Network exclusive title - let them eat cake.
Titan is looking for 250 real beta testers for Fat Princess, meaning folks actually willing to provide them feedback on the title, and all you have to do to qualify is eat some cake. Okay, you have to eat some cake, take a picture with said cake and some sort of PlayStation paraphernalia, and then upload it to Titan's Facebook fan page. The first 250 to follow those instructions will get into the beta test.
Slots are sure to fill up relatively quickly, but even if you don't get in you still get to eat delicious cake, which makes you a winner either way, even if you are a dirty viking.
Eat Yummy Cake, Join the Fat Princess Beta [PlayStation Blog]