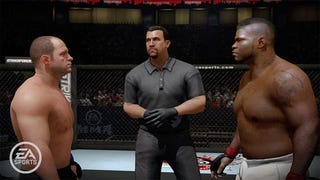 The EA Sports MMA roster has grown by two, officially, as of today. Electronic Arts announced a press conference in Tokyo earlier today that Hidehiko Yoshida and Shinya Aoki will virtually beat the shit out of each other in 2010.
If the names Yoshida and Aoki aren't what you'd consider household names, the former is an Olympic judo gold medalist, the latter the current DREAM lightweight champion. Neither is pictured in the screen shot above, obviously, but their presence at today's press conference (as photographed by Famitsu.com) is sufficient evidence that the two fighters do exist and have committed their likenesses to the mixed martial arts game.
I'm still hoping that we're in for a few Super Smash Bros. style entries, with, say, Isaac Clarke making an appearance in full armor and the faceless bikers from Road Rash entering the ring armed with bike chains. Any other terrible ideas on par with those two suggestions?
EA Sports MMA [Twitter]
ヒョードルVS吉田が実現?『EA SPORTS MMA』に吉田秀彦、青木真也両選手が参戦決定 [Famitsu]