John Riccitiello, CEO of game publisher Electronic Arts, is stepping down from his position.
Former EA CEO and board chairman Larry Probst will take over while the board searches for a new replacement, EA said.
Riccitiello, who was first hired as CEO of the massive publisher in 2007, has faced criticism from investors and fans over the past few years as Electronic Arts has gone through all sorts of financial difficulties. In December, Riccitiello was listed as one of "eight CEOS to fire in 2013" by the blog 24/7 Wall Street.
Riccitiello always portrayed the image of an exec who actually plays games. The bosses at Activision or Microsoft wouldn't talk about the games they played. But Riccitiello would happily chat not just about his experiences with EA's own but about the competition's. And if you got him talking about, say, EA's Mirror's Edge, he'd express design ideas about how to make it better.
G/O Media may get a commission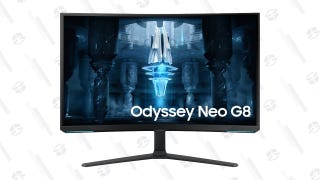 Samsung 32" Odyssey Neo G8 Curved Gaming Monitor
Here's what EA's stock has looked like since Riccitiello took over in April of 2007:
---
---
EA's financials took a dive during the recession in 2008 and have not come close to recovering since. The past six months have been particularly rocky for the publisher behind games like Battlefield and Madden.
In 2007, when Riccitiello first took over the company, he divided Electronic Arts into four labels: EA Games, EA Sports, EA Casual, and The Sims. Later that year, he oversaw one of EA's biggest acquisitions in the past decade, the purchase of VG Holding Corp, the company that then owned Pandemic Studios and BioWare, the well-respected developers behind role-playing games like Star Wars: Knights of the Old Republic and Mass Effect.
In early 2008, news came out that EA had attempted to purchase Take-Two, the publisher behind Grand Theft Auto. Take-Two rejected EA's bid.
Although EA's sports label has found a great deal of success with the can't-fail Madden NFL series, the publisher has struggled to compete in the realm of basketball over the past few years, failing a few times to relaunch NBA Live, which has not been published since 2009.
Over the course of Riccitiello's tenure, EA took a number of risks on creative games that went outside the company's comfort zone, including Mirror's Edge, Brutal Legend, and Spore. They succeeded with some projects—The Simpsons: Tapped Out has been one of the most popular games on iOS—and struggled with others, like Star Wars: The Old Republic, which eventually had to go free-to-play after an unsuccessful launch in late 2011.
EA's most recent misstep was the SimCity debacle, which we've detailed here.
Here's the full press release announcing Riccitiello's departure, via EA:
REDWOOD CITY, Calif.—(BUSINESS WIRE)— Electronic Arts Inc. (NASDAQ: EA) today announced that John Riccitiello will step down as Chief Executive Officer and as a member of the Board of Directors, effective March 30. The Board has appointed Larry Probst as Executive Chairman to ensure a smooth transition and to lead EA's executive team while the Board conducts a search for a permanent CEO. The Board will consider internal and external candidates with the assistance of a leading executive search firm.

Mr. Probst has played a leadership role at EA since 1991. In addition to serving as Chairman of the Board since 1994, he previously served as the Company's CEO from 1991 to 2007. As CEO, Probst successfully grew the Company's annual revenues from $175 million to approximately $3 billion, led EA into new platforms such as mobile, online and other emerging markets and expanded its international presence to more than 75 countries.

"We thank John for his contributions to EA since he was appointed CEO in 2007, especially the passion, dedication and energy he brought to the Company every single day," said Mr. Probst. "John has worked hard to lead the Company through challenging transitions in our industry, and was instrumental in driving our very significant growth in digital revenues. We appreciate John's leadership and the many important strategic initiatives he has driven for the Company. We have mutually agreed that this is the right time for a leadership transition."

On behalf of the Board, Lead Director Richard A. Simonson stated, "As we begin the CEO search, we are fortunate that Larry, who has a proven track record with our employees, partners and customers, has agreed to assume a day-to-day leadership role as Executive Chairman. He has 16 years of experience as CEO of EA and a deep understanding of the Company's strategy, management team, business potential and industry trends."

Mr. Riccitiello stated, "EA is an outstanding company with creative and talented employees, and it has been an honor to serve as the Company's CEO. I am proud of what we have accomplished together, and after six years I feel it is the right time for me pass the baton and let new leadership take the Company into its next phase of innovation and growth. I remain very optimistic about EA's future - there is a world class team driving the Company's transition to the next generation of game consoles."
And here's the letter John Riccitiello sent to EA:
To Everyone at EA –

I am writing with some tough news. I have resigned my position as EA's CEO. I will be around for a couple of weeks, and I hope to have the chance to say goodbye to many of you. Larry Probst will be stepping in as Executive Chairman to help smooth the transition. Larry first hired me at EA in 1997 and he was an incredible leader for the company during the 16 years he served as CEO. While he will continue to be the Chairman of the US Olympic Committee, he will also provide leadership for EA until a permanent CEO is appointed.

My decision to leave EA is really all about my accountability for the shortcomings in our financial results this year. It currently looks like we will come in at the low end of, or slightly below, the financial guidance we issued to the Street, and we have fallen short of the internal operating plan we set one year ago. And for that, I am 100 percent accountable.

Personally, I think we've never been in a better position as a company. You have made enormous progress in improving product quality. You are now generating more revenue on fewer titles by making EA's games better and bigger. You've navigated a rapidly transforming industry to create a digital business that is now approximately $1.5 billion and growing fast. The big investments you've made in creating EA's own platform are now showing solid returns. I believe EA is alone in mastering the challenges of building a platform for our games and services – a platform that will provide a more direct relationship with our consumers. You are number one in the fastest growing segment, mobile, with incredible games like The Simpsons: Tapped Out, Real Racing 3, Bejeweled, SCRABBLE and Plants v. Zombies. You have worked to put EA in a position to capture industry leadership on the next generation of consoles; and I believe two of our titles – Battlefield and FIFA – will be among the top few franchises in the entire industry. And the industry's most talented management team – Frank, Rajat, Peter, Gaby, Andrew, Patrick, Blake, Joel and Jeff — are certain to lead the company to a successful future.

I remain an incredible fan of EA and everyone who works in our world – from Stockholm to Seoul, Orlando to Edmonton, Guildford, Geneva, Cologne, Lyon, Bucharest, Montreal, Austin, Salt Lake, LA and, of course, EARS. My hope is that my travels and yours allow us the opportunity to talk more in the months and years to come.

In a few weeks, I will be leaving EA physically. But I will never leave emotionally. I am so incredibly proud of all the great things you have done, and it has been my honor to lead this team these past six years. After March, I will be cheering wildly for EA from the sidelines.
John