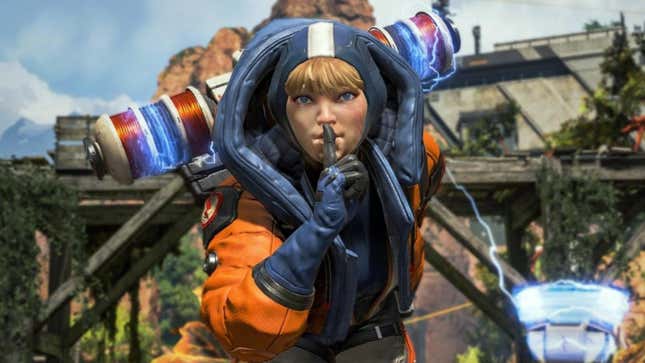 Over 200 quality assurance testers at Electronic Arts' Baton Rouge, LA office were abruptly laid off during a surprise Zoom call on Tuesday, three sources familiar with the meeting tell Kotaku. They worked predominantly on Apex Legends, the publisher's hit battle royale developed by Respawn Entertainment.
It Looks Like A PlayStation Classic, But Your Grappling Hook Is A Frog
Some current and former testers began sharing the news on Twitter earlier today. "EA just fired its entire Baton Rouge studio, which is essentially their entire Apex Legends QA staff," wrote one who goes by TopMarx420. Three other now laid off staff told Kotaku that all testers at the site were laid off, despite some having only just finished their night shifts earlier in the day.
QA testers were invited to an unscheduled mandatory Zoom meeting at 8 a.m. CT today with Magnit Global, their contracting agency, and encouraged to join from their personal smartphone or computer. According to three sources, who wished to remain anonymous because they were not authorized to speak to press, the entire QA team at the Baton Rouge office was then disbanded.
EA would not comment directly on the layoffs when asked, but said testing for Apex Legends will now be spread out to teams located elsewhere. "Testing games is an integral part of delivering the best experiences for our players," a spokesperson for the publisher told Kotaku in an email. It went on:
As part of our ongoing global strategy, we are expanding the distribution of our Apex Legends testing team and ending testing execution that's been concentrated in Baton Rouge, Louisiana, impacting services provided by our third-party provider. Our global team, inclusive of remote playtesters across the U.S., enables us to increase the hours per week we're able to test and optimize the game and reflects a commitment to understand and better serve our growing community around the world.
This news apparently came as a shock not only to those let go, but also full-time supervisors who were not told in advance or given time to prepare. Those impacted were apparently allowed to collect personal belongings from the office only under the supervision of security. They will be provided 60 days severance, though that won't cover the length of many people's contracts, sources said.
While the Baton Rouge office previously provided QA support for many different EA-published games, it began assisting with Apex Legends prior to its surprise launch in 2019. Some current and former testers there worry this abrupt shift in operations could impact the quality of testing in the near future, given the experience and training the Baton Rouge team had built up over the last several years.
These layoffs come a month after EA also cancelled the Apex Legends mobile spin-off, as well as an in-development Battlefield mobile game. The studio working on the latter, Industrial Toys, which was purchased by EA in 2018, was shuttered as a result. Last year, the publisher of FIFA and Madden also significantly slashed its customer service teams in Austin, TX. As Kotaku reported at the time, that work, which included helping players with busted microtransactions and wresting back control of hacked accounts, was outsourced to vendors in Europe and India.
EA did not immediately respond to a request for comment.
Update 2/28/2023 2:35 p.m. ET: Added comment from EA.
Update 2/28/2023 2:10 p.m. ET: Added additional context from Twitter.
Update 2/28/23 1:01 p.m. ET: Added more info about the number of employees affected and how they were contracted.