Hello there, readers. Welcome to day two (or, depending on how you look at it, day three) of E3 2010. We've another big day ahead of us, but before we begin, let's look back at what happened yesterday.
I don't think I'm overstating things when I say yesterday was a day of unexpected surprises. We knew the 3DS was coming, and we knew the next Zelda game would be unveiled, but we didn't think the 3DS would bring so many promising games along for the ride, and we didn't think the Zelda game would look that damn good.
Nintendo's memorable press conference was a tough act for Sony to follow, but they...followed it. It was actually a bit of a disappointment, but the publisher had shown its hand in recent weeks by unveiling games like Killzone 3, MotorStorm 3 and LittleBigPlanet 2 ahead of E3.
To get you up to speed, we'll break our recap down into three sections: news, videos and screenshots or images.
G/O Media may get a commission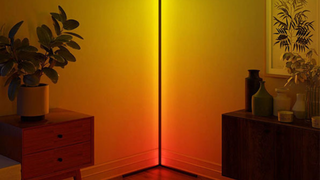 Save 60%
Minimalist LED Corner Floor Lamp
NEWS
Nintendo's 2010 E3 Press Conference LIVE
Link Returns to Wii with The Legend of Zelda: Skyward Sword
Mario Sports Mix 2011 Coming in 2011
Goldeneye 's Return to Wii Confirmed
Wii Party Coming To North America
Epic Mickey Is Setting A New Direction For Mickey Mouse
Kirby Gets His First Game on the Wii
Donkey Kong's Back with Donkey Kong Country Returns
3DS' Launch Title Will be Kid Icarus Uprising
A Who's Who of Games is Developing for the 3DS
Your First Look At The Nintendo 3DS
A Quick Look At Wii Party
Checking Out Metal Gear Solid On The Nintendo 3DS?
Hands-On With Seven Nintendo 3DS Games and Gadgets
3DS Traces Its Roots to GameCube
Sony PlayStation At E3 2010 Live!
Finally, A Good Look At The Warhammer 40K MMO!!
Killzone 3 Releases February 2011, Will Be Move-Enabled at Launch
PlayStation Move Priced, Dated for September Release
Premium "PlayStation Plus" Subscriptions Coming to PSN
Valve: Portal 2 Coming to PS3 [Corrected]
Gran Turismo 5 Will Be Out This November
Twisted Metal Comes to the PS3
GoldenEye For Wii Is A Remake With Some Asterisks
Portal 2's New Toys, New Friends and Old Enemies
Playing Portal 2... For Science
Wii Vitality Sensor Too Mellow For E3?
Nintendo 3DS: Every Announced Game Right Here
Check Out The 3DS' Specs
PlayStation Move Goes Pew! Pew! Pew! With New Gun Shell
Live From Nintendo's E3 Briefing: More On Zelda, 3DS, Pikmin
Spec Ops: The Line Eyes On Impressions
Don't Worry, Pikmin Is Still Coming
Killing Time, Pedestrians With The New Twisted Metal For PS3
Zelda: Skyward Sword Is Inspired By...Dead French Painters?
Final Fantasy Designer Would Like To Make A First Person Shooter
The Definitive Guide To The Nintendo 3DS
Rage Eyes On Impressions
Nintendo Searching Back Catalogue For 3DS Reboots
NBA Elite 11 Impressions: It's Got a Good Shot
Bionic Commando Rearmed 2 Impressions
Gran Turismo 5's Collector's Edition Is Reward For Your Patience
Need for Speed: Hot Pursuit Eyes-On Impressions: Hot Fuzz
Zelda Details: Link Is From Cloud City
Flower Developer's New Game Is A Multiplayer Adventure
VIDEOS
Miyamoto Makes One Hell Of An Entrance At Nintendo's E3 Presser
Activision Presents A Woman On A Pole
The Legend Of Zelda Skyward Sword Video Preview, Starring Me
Warhammer 40K: Space Marine Gets Its First Trailer
Zelda: Skyward Sword's Debut Trailer
Rumor: 3DS Gets Ocarina Of Time Remake [Update]
Portal 2 Trailer: The Bitch Is Back
Medal Of Honor's Singleplayer Trailer: Quadbikes At War
Metroid: Other M's E3 Trailer
Dead Rising 2 Prequel Gets All Serious On Us
SCREENSHOTS/IMAGES
What You'll Be Playing on the Nintendo 3DS
Official 3DS Pictures Show It's A Pretty Little Thing
First Zelda: Skyward Sword Screenshots
Kid Icarus 3DS Screenshots
Metal Gear 3DS Screenshots
Fake North Korean Army Invades E3
Star Fox Returns, On The 3DS
Paper Mario Brings 2D To The 3DS
An Old "Friend" Returns In Portal 2
Mario Kart Takes A Spin On The 3DS
PilotWings Returns On The 3DS
Twisted Metal PS3 Looks..Well, Yeah, It's Twisted Metal
Sly Cooper's PS2 Games Look Nicer On The PlayStation 3