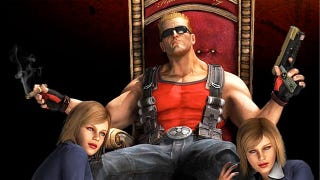 Some gamers may get their hands on the long-awaited Duke Nukem Forever as early as next week, as reminders for the game's "First Access" program have been going out to Duke fans today, pointing to a possible next week release for the game's demo.
Gamers who pre-ordered Duke Nukem Forever or purchased the Borderlands "Game of the Year Edition" will get first crack at the DNF demo. And some got an e-mail from developer Gearbox Software today, asking gamers for "the most accurate up to date information for your First Access profile."
Players were asked to confirm the preferred platform on which to play the Duke Nukem Forever demo via e-mail by May 15, 2011, likely indicating that some of us will be playing the bawdy first-person shooter as early as next week.
Reps for the game tell Kotaku "We will be making an official date announcement soon."
Duke Nukem Forever is scheduled for a June 10 release on the PS3, PC and Xbox 360 internationally, June 14 in North America.
Thanks for the tips, Duke fans!