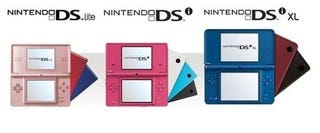 Starting Sept. 12 Nintendo will be dropping the price of the DSi to $150 and the price of the DSi XL to $170. The DS Lite will remain $130.
The price drops lower the two systems by $20 each, down from $170 and $190 respectively.
"We know shoppers want to get the maximum value out of every dollar they spend," said Cammie Dunaway, Nintendo of America's executive vice president of Sales & Marketing. "Our new Nintendo DSi prices make it easier than ever for consumers to access the tremendous variety of games, applications and social tools on the Nintendo DSi and Nintendo DSi XL systems."
All this and a date for Golden Sun: Dark Dawn. It's shaping up to be a great Monday morning for Nintendo fans.