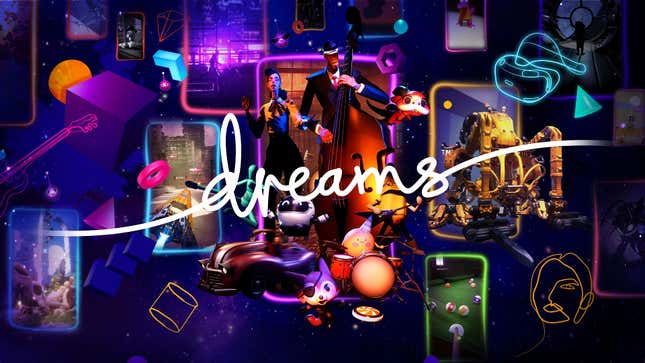 Media Molecule has announced it's ending support for Dreams, its PlayStation 4-based game-making suite, after four years.

In Eternights You Press R2 To Hold Hands Just Like IRL
In a post on the game's website, the studio laid out the next few months, including a plan to end live support for Dreams on September 1. This means the team is moving on to "an exciting new project," and there won't be further patches and updates for Dreams. There will still be some tweaks coming between now and in September, including the Tren game, improvements to animation, and one more update for the Create mode.
"We know this won't be an easy message for everyone to hear, and it's certainly not been an easy decision - Dreams has been a special project for Media Molecule and helping this burgeoning community of game developers, tinkerers, creatives, collaborators and dreamers grow and express themselves remains one of the best things we've ever done. Thank you for being part of it with us - we look forward to you joining us on our next adventure."
In an FAQ, Media Molecule says it was "not able to define a sustainable path" for Dreams and has "made the decision to change the studio product strategy." While the team will release the final update for the game in September, the game's creation and sharing tools will stay online, so you can still play games made in Dreams, as well as create your own, for now. One casualty is that Dreams won't get its planned online multiplayer features. In the FAQ, Media Molecule says it "[has] done research and development on many areas for Dreams, unfortunately [the team is] not able to bring these features to the game."
Read more: Media Molecule Talks Curation And The Future Of Dreams
Alongside this announcement, Media Molecule also wrote about its plans to migrate Dreams to a new server in "late May." The studio says it's had to make changes in the process that will cause compatibility issues with established features. The blog post lays out each change, but one of the most significant is that players will now have a storage limit of up to 5GB of data after the migration date. Crucially, this won't apply to any existing games and creations players make before the server migration, but moving forward, it sounds like Dreams is about to get a lot more limited in terms of how much you can create and save.
The full list of changes is as follows:
Limits
As part of the Dreams server migration, in an effort to preserve the security and stability of the Dreams server for all players, there will be a storage limit of up to 5GB from the date of the Dreams server migration. This 5GB limit will be added for players on the date of server migration. Your existing creations will not count towards the limits. New limits are as follows:
Storage Space
Photos
Creations
Versions
Online: 512
Local: 1024 across all creations
Deletion & Archiving
To help you manage your content you'll now be able to delete, rather than archive, creations.
We are removing archiving as a feature. Creations that were archived prior to the date of the server migration will be unarchived and available in your saved creations, where you can choose to delete them.
Releasing Content
We have simplified release screens, making it easier for you to publish your Dreams creations.
You can now release Dreams creations as PUBLIC that contain PRIVATE content.
Versions
We've improved clarity for versions - global LOCAL version limit is called out where it wasn't previously and we've named the two key versions Latest Online and Lead.
Prize Bubbles
We are removing prize bubbles from Dreams. Please make PRIVATE prizes PUBLIC if you'd like fellow players to use them. Specifically:
Creations that included prizes in bubbles will now display empty bubbles.
You will no longer have access to this feature from the Gadgets menu.
CoMmunity Jams
Unfortunately, from April 2023 and after the last CoMmunity Jam, we will no longer be holding additional CoMmunity Jams. The Hall of Fame will still feature previous jam content. We have loved seeing all your brilliantly creative entries to these – thank you!
Quests and Trophies
We are removing the following Creative Imp Quests:
Creative Thinker – Welcome Home Theme
Creative Thinking – Ancient Temple Theme
If you have already earned PlayStation Network Trophies related to the above Creative Imp Quests, this will not impact you, including if you have already earned a Dreams PSN Platinum Trophy. New players of Dreams will be able to unlock replacement trophies. If you have PSN Trophies in progress in relation to the above Creative Imp Quests, you will lose any progress in respect of that PSN Trophy and need to complete the new requirements to unlock the applicable replacement trophy.
To unlock the replacement PSN Trophies, you will have to perform the following:
2D platformer Template & Ancient Dangers Template—you will have to carry out the Play & Edit. If you have completed these already, you only need to walk through the Play & Edit exit door again to re-trigger the PSN Trophy.
We are modifying the following PSN Trophies:
Come Aboard
Come Aboard: enter DreamShaping after having completed the Camera Quests
Home Visit
Home Visit: visit another player's profile
Pop All The Bubbles
Pop All The Bubbles: modification to the trophy description
Audio Importer
We are temporarily removing the audio importer. We expect to be restoring it before October 2023.
When restored, you will no longer need to be online for microphone recordings and the number of uploads per day limit will be removed.
Twitch Integration
We are removing Twitch integration (Twitch Buddy).
Social
We are removing the "Message of the Day" feature.
Players won't receive a notification when they are @ mentioned in creation titles or version notes.
You must now page through comments.
Activity Feeds
You will no longer be able to view:
What another player has been doing via the other player's activity feed (what they played, liked, left a comment on, took a photo of, etc.)
What other players have been doing related to a creation (the owner released a new version, another player left a review, took a photo, etc.)
Scoreboards
Scoreboards will only show the top 100 entries.
We are removing Friends Scoreboards—you will not see PSN friend score comparisons.
Homespaces
Homespaces are now local only (no visiting others' homespaces).
Indreams.me
Linking to creations and players by ID in titles and descriptions will no longer be possible.
You will not be able to open a creation in-game from indreams.
"Tools" option in the header user account menu will be removed.
The following live tools are being removed:
Play now
Send to imp
Keyboard entry
Photos
Taking photos is now limited to a maximum of 15 photos before saving (local save space limit allowing).
You must select where you want to save photos to as part of the flow: online or locally.
Uploading photos now deletes the local version.
We have removed elements of the filter functionality in photo management and removed the ability to search photos by tag when selecting what photo to add to a cover page.
Trial
We will be removing the Dreams trial from the PlayStation Store. If you are playing Dreams on a trial, you will need to buy the full game to continue accessing Dreams.
VR
Your personalized comfort rating is now visible on content
There are no comfort ratings on maps and collections.
The LittleBigPlanet studio launched Dreams on PlayStation 4 through an early access period in 2019, followed by a full launch in 2020. Prior to this, it was one of the first games Sony teased at the original PlayStation 4 reveal event in 2013. When the game went into early access, Sony said it had a 10-year plan for Dreams, and now it looks like it's not even going to reach the halfway point of whatever the company had in mind.
It might not have set the world on fire in the same way other Sony first-party games like The Last of Us or God of War have, but the community surrounding Dreams has been creating some really cool stuff with its toolset since it launched in early access. All that being said, the writing on the wall has probably been there for at least a few years, as even a year in, Dreams was dealing with a player shortage. That meant creators were making games but not a lot of people were playing them.