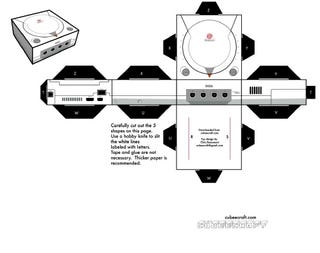 Sure, they don't work, but these cardboard consoles definitely start more conversations. Best part, you don't even need tape or glue. Thicker paper is recommended, as is a nice printer that can handle 150dpi printouts.
You don't technically even need color, like these old-school pals. (There is a little bit of red, in the logos; and some color elsewhere.)
Unfortunately, no papercraft game pads are included with these two designs, put up by Cubeecraft.
Papercraft NES and Dreamcast Cost Less, Play Just as Many Cutting Edge Games [Endgadget]