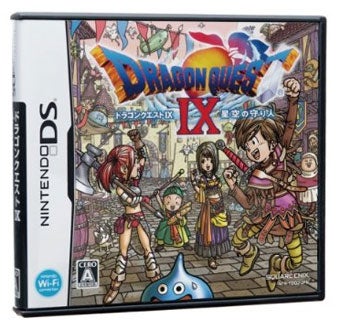 Square Enix's Dragon Quest IX held onto its number one spot in its second week on sale in Japan, flirting dangerously close with 3 million copies sold in a rather short amount of time. Success!
DQ IX easily outperformed the week's second bestselling title, Konami's baseball sim Pro Yakyuu Spirits 6 for the PlayStation 3, which forced Wii Sports Resort into third place. The rest of the top ten is filled with recently familiar bestsellers, including Nintendo's Tomodachi Collection and Sega's Miku Hatsune Project Diva.
A handful of new debuts, including the latest repackaging of Ys I & II made their way into Media Create's top thirty bestselling games. We'll know next week if Dragon Quest IX can hold onto its lead (that's a safe bet) and if Japanese PlayStation 3 owners shine to Katamari Forever.
01. Dragon Quest IX (DS) - 613,000 / 2,932,000
02. Pro Yakyuu Spirits 6 (PS3) - 74,000 / NEW
03. Wii Sports Resort (Wii) - 72,000 / 689,000
04. Tomodachi Collection (DS) - 61,000 / 354,000
05. Pro Yakyuu Spirits 6 (PS2) - 50,000 / NEW
06. Ys I & II Chronicles (PSP) - 19,000 / NEW
07. Boku no Natsuyasumi 4: Seitouchi Shounen Tanteidan, Boku to Himitsu no Chizu (PSP) - 17,000 / 91,000
08. Miku Hatsune Project Diva (PSP) - 15,000 / 131,000
09. Monster Hunter Portable 2nd G (PSP) - 11,000 / 800,000
10. Pokémon Platinum (DS) - 9,000 / 2,481,000
11. Wii Fit (Wii)
12. Kingdom Hearts 358/2 Days (DS)
13. Sloane to MacHale: Nazo no Monogatari (DS)
14. Mario Kart Wii (Wii)
15. Gyakuten Kenji (DS)
16. Ken to Mahou to Gakuen Mono 2 (PSP)
17. Taiko no Tatsujin Wii (Wii)
18. Mario & Luigi RPG3!!! (DS)
19. Mario Kart DS (DS)
20. Pokémon Fushigi no Dungeon: Sora no Tankenta (DS)
21. New Super Mario Bros. (DS)
22. Qupu!! Mame Goma! (DS)
23. Rorona no Atelier: Arland no Renkinjutsushi (PS3)
24. Rhythm Heaven (DS)
25. Valhalla Knights 2: Battle Stance (PSP)
26. Metal Fight Beyblade (DS)
27. Inazuma Eleven (DS)
28. BlazBlue (PS3)
29. Animal Crossing Wild World (DS)
30. Meccha! Taiko Drum Master DS: 7-tsu no Shima no Daibouken (DS)