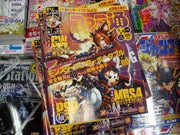 It wasn't only Square Enix's stock prices that took a hit when Dragon Quest IX was delayed from March 28 to July 11. Game magazine Famitsu also took a hit.
The day following the announcement, Famitsu released an emergency discount promotion for advertising in their magazines. Most likely, Square Enix was planning a slew of DQIX ads, but pulled the plug once the game was pushed back. Famitsu was left holding the back.
Now, Famitsu is offering deals such as:
Special news flash 2 page tie-up:
1,950,000 yen (US$21,000) -> 1,500,000 yen (US$16,000) (23 percent off)

Middle of magazine 4C1P pure ad:
825,000 yen ($8,900) -> 600,000 yen ($6,400) (27 percent off)

Middle of magazine 4C2P pure ad:
1,650,000 yen ($17,800) -> 1,100,000 yen (US$11,800) (33 percent off)
Famitsu has set a deadline for the ads: apply for ads 45 days before publication and submit them 35 days before publication. As website Canned Dogs points out, we're pass the deadline for the March 19 issue.
ドラゴンクエストIX延期の影響が週刊ファミ通にも [N-Styles via Canned Dogs]