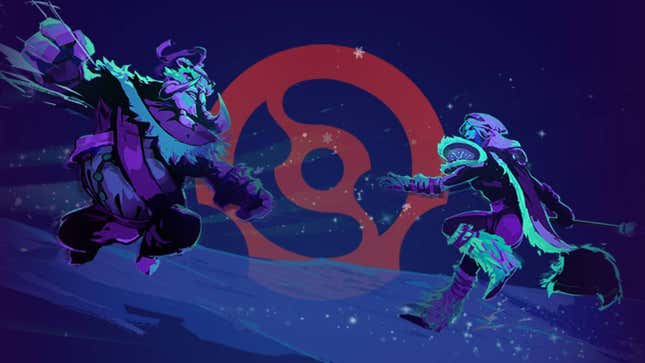 When you gotta go, you really gotta go. I just wish that esports tournaments felt the same about letting their competitors use the toilet. Pro player Oliver "Skiter" Lepko peed in a bottle during an ongoing DOTA 2 tournament, citing the organizers' rules against going to the toilet during a match. Here's a photograph of the pee bottle for your…uhhh, enjoyment?

Nintendo Showcase Standout Gunbrella Has The Best New Video Game Name Of 2022
DPC 2023 WEU Winter Tour Division 1 is a DOTA 2 tournament organized by the Romanian esports company PGL. Eight European teams compete against each other from January 9 to 29 for a prize pool of $200,000. But that's not what you're interested in. You want to know why a professional gamer was peeing in a bottle like he's an Amazon delivery driver.
Lepko told Jake Lucky that he would have incurred a level 2 draft penalty (which means teams are delayed in choosing their heroes) if he opted to go to the bathroom, which was allegedly against the rules. Rather than put his team at a disadvantage or wait out the 40 minutes of a standard DOTA 2 match, Lepko took a bottle and peed in front of his teammates. I can't decide if I should commend him for being a team player, or if he should have just taken the penalty. He forced his innocent teammates to see his junk, which couldn't have been fun for anyone involved. Kotaku reached out to PGL to ask how unlimited bathroom breaks would affect the fairness of the tournament, but did not receive a response by the time of publication. Lepko's team had nevertheless managed to win three out of four matches during the tournament.
The strangeness of the story doesn't stop there. Rather than apologizing and telling competitors that they could use the toilet as much as they wanted, PGL allegedly told Lepko to "clarify [his] previous tweet" about the pee bottle. "I knew the rulebook stated no bathroom breaks were allowed," wrote Lepko. "I go [to the] toilet before every game, but drank a lot of water and had to go again due to the long game." Kotaku reached out to Lepko to ask if any of his previous tournaments had a no-bathroom rule, but did not receive a response..
The incident seems funny on the surface, but it's deeply fucked up that esports tournaments are just as bad about letting people pee as Amazon is. Rise up, pro gamers. You have nothing to lose but your chains.