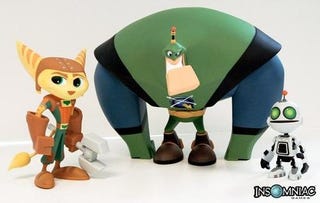 Check out these vinyl toys CreatureBox and Gentle Giant put together as gifts for Insomniac Games employees. Even the weird-looking Qwark puts all the coffee mugs I've ever gotten to shame.
The full employee gift set includes Qwark, Clank and Ratchet. To give you an idea of scale, Qwark is a whopping 15 inches wide.
CreatureBox says of their creations:
We're huge fans of vinyl toys and wanted to do our own take on the characters we have come to know all too well. [...] Not sure if these will ever be released to the public, for now they are just for employees.
Bummer. But maybe by next San Diego Comic Con, that'll change.
Ratchet, Clank & Qwark Vinyls! [CreatureBox]
Thanks for the tip, John!