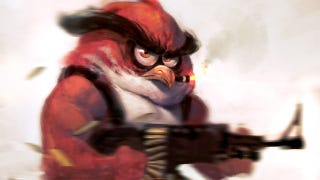 The Angry Ass Birds are ready to lay down some serious firepower in Anthony Jones' hilarious fan art redesign. "Get to da slingshot!!!"
Related Rampages: Mega Man the Movie | Smash Bros (More)
ANGRY ASS BIRDS by Anthony Jones / Robotpencil (deviantART)
Need your daily fill of geek eye candy? If so, head over to Justin Page's Rampaged Reality and get your fix. Republished with permission.
---