This poster, recently slapped up on the walls of some of New York City's subway stations, advertises the next season of AMC's Breaking Bad. But gamers like me who look at it will probably see something else.
Gordon Freeman, hero of Half-Life, is that you?
This is Freeman as he appears on the box art for 2006's Half-Life 2 in 2004. There hasn't been a new Half-Life game since 2007, despite fans' frequent pleas to series' creator Valve Software to make a new one.
Gordon, it's nice to see you again... sort of.
I don't watch Breaking Bad (I know, I know... I should). I'm guessing that there's no actual Half-Life crossover in the show.
G/O Media may get a commission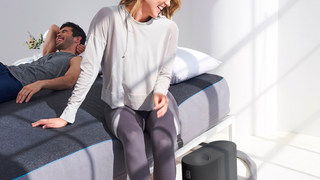 Eight Sleep Pod Cover
As for this poster, others people appear to have noticed this earlier this month. I didn't catch it until this week, when the posters started going up at stations for Manhattan and Brooklyn's worst subway line, the C train.