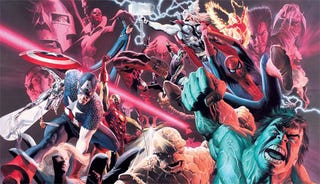 Now that Disney owns comic book company Marvel, what will become of the video game output of the two companies? Sounds like more Marvel games heading to the Xbox 360 and PS3, more Disney games to the Wii and DS.
Disney CEO Bob Iger said during a quarterly earnings call that the home of Mickey Mouse will publish fewer games for so-called "high-end" platforms. It may release fewer Disney Interactive Studios titles for Microsoft and Sony's current-gen platforms, as Disney brand games "seem to perform better on the Wii and DS platforms," according to a report from Computerworld.
"While we'll continue to make high-end games," Iger said during yesterday's call, "we'll be very judicious in how many we make and which ones we choose."
Disney's current "high-end" console slate includes the racing game Split/Second, Pirates of the Caribbean: Armada of the Damned and games based on the new Tron film. On the Wii side, there's Epic Mickey and forthcoming Toy Story game adaptations.
Disney weighs bringing Marvel games to 'high-end' consoles [Computerworld]