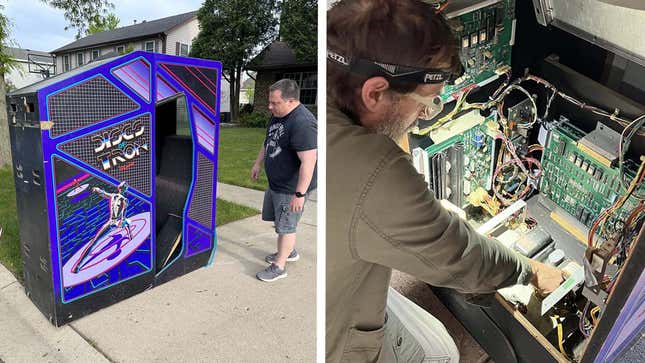 Imagine you are visiting family and your niece tells you that she saw some old "Tron thing" a few blocks away. You investigate and discover a near-perfect condition, still working, super rare Discs of Tron arcade machine from the 1980s just sitting on the side of the road, waiting to be smashed and tossed into the dump despite being worth around $10,000. Probably sounds like some made-up, too-good-to-be-true internet fable, but it actually happened to someone earlier this month.
The 3 Best And 3 Worst Korok Challenges In Tears Of The Kingdom
Released in 1983, Discs of Tron was one of two Midway-produced arcade games based on Tron, the Disney film about a person sucked into a video game filled with sentient AI and cool motorcycles with light trails. Discs of Tron was released in a special "environmental" cabinet that allowed a person to stand inside it while playing, letting them be fully immersed in the digital world of Tron. Because of its complexity and size—it weighs over 700 pounds, compared to the average 200 for this sort of thing—relatively few of these cabinets were produced when compared to popular games of the era. And because it was rare and complicated, it's not common to find machines in good condition that still work in 2023.
So with all of that in mind, you can understand why so many people are freaking out over author and game historian Tim Lapetino's story of stumbling upon a Discs of Tron machine randomly while visiting relatives in Chicago.

In a recent story published on The Arcade Blogger, Tony Temple explained that during his visit, his young niece offhandedly mentioned that she had seen "some Tron thing" sitting on a curb while riding her bike around the neighborhood. Lapetino was curious and jumped into a car and drove a few blocks over to where she spotted the machine.

"As we drove up to the spot, I uttered 'What the &*@$?!' forgetting that my niece was in the car with us," admitted Lapetino. "And would you believe it – there it was. [A Discs of Tron enviromental cabinet] was sitting by the curb."

According to Lapetino, as seen in images shared on the Arcade Blogger site, the cabinet appeared to have been dragged from the home's garage and down the driveway to the side of the road. The owner of the cabinet—an older woman who told Lapetino that it had sat in her garage for years and she just wanted it gone—seemed to have assumed that the garbage men would haul the cabinet away. However, it was too big to be picked up by a crew and a sticker had been left by Waste Management telling the owner to break it down. It had been sitting there for a few days by the time Lapetino found it.

Getting the heavy and rare arcade machine to safety
Realizing the lucky find on his hands, Lapetino loaded the machine onto dollies and wheeled it a few blocks to their family's garage. It was in perfect condition, only missing some artwork, but otherwise an an internal counter suggested that the machine had been played less than 3,000 times. In this condition, with nearly every original piece and all the lights and the monitor working, the machine could be worth up to $10,000 or more.
"This is absolutely my holy grail game," explained Lapetino. "I don't own any other arcade machines, but being a huge Tron fan and a lover of this game, this would have been my ideal game to (someday) own. And here it was just sitting blocks away from where my relatives live! I don't really believe in coincidences, and this is an absolutely nuts story."