If you own a game console, this is basically free money.
Bonus: We've seen 12 months of Xbox Live for $40 recently, but how's 13 months sound? [13 Month Xbox Live Gold Membership, $40]
---
Keyboard enthusiasts have a couple of great deals to choose from today. First, the ultra-clicky Das Keyboard 4 Ultimate has a $10 coupon on Amazon, which is one of the first deals we've seen on a non-refurb. The Das 4 comes with loud, tactile Cherry MX Blue key switches, a volume knob, USB 3.0 hub, and a Lifehacker Hive Five seal of approval (on the previous model). [Das Keyboard 4 Professional Clicky, $159 after $10 coupon]
G/O Media may get a commission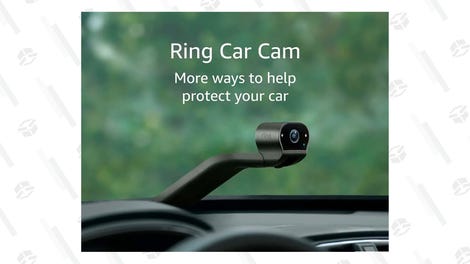 Great as the Das is, it's really designed for typists. If you're more of a gamer, the excellent Logitech G710+ is only $100 today. The Cherry MX Brown switches are great for fast-twitch gaming, plus you get six programmable keys to run macros, and you can adjust the backlighting on the WASD keys independently from the rest of the keyboard. It's easy to see why the 710+ it was one of your five favorite gaming keyboards. [Logitech G710+ Mechanical Gaming Keyboard, $100]
Are you totally confused about why anyone would pay this much for a mechanical keyboard? Lifehacker has a great guide to explain the benefits and get you started.
---
Barely over a year ago, I spent 500 American Dollars on an Xbox One with no games. Now, you can get an Xbox One with three games for $359, and no tax for most. You can get the Assassin's Creed bundle for $350 pretty easily, but Master Chief Collection for an extra $10 is an absolute steal. [Xbox One Assassin's Creed Bundle + Halo Master Chief Collection, $359 with no tax for most]
---
One does not simply pay full price for Shadow of Mordor. Best Buy has it for $30 on all platforms today, and Amazon has the same deal for last-gen consoles as well, if you prefer to shop there. [Shadow of Mordor, $30]
---
Evolve promises to be one of the most unique new games of 2015, and Best Buy is offering $10 in rewards credit for My Best Buy members when you preorder. It comes out tomorrow, so this is your last chance for a preorder deal. [Preorder Evolve + $10 My Best Buy Rewards]
---
Despite the awkward name, Wii Fit U is still a pretty innovative little fitness trainer, and B&H has the game/balance board/fitness meter bundle for just $40 today. [Wii Fit U Balance Board Bundle, $40]
---
The web is littered with Samsung SSD deals today, all of which will make your old PC feel like new.
---
When global warming/solar flares/nuclear bombs/Twitter shade wars decimate the planet and the hardscrabble remnants of humanity develop a chewing gum-based economy, you'll be glad you read Kinja Deals. Just use your riches to build a shrine to us, or something. [ 5,400 Pieces of Dubble Bubble, $34]
---
I won't spoil anything, but the first episode of Better Call Saul was excellent, and a must-watch for any Breaking Bad fans. If you need to catch up before tonight's episode 2, both Amazon and iTunes are offering the premiere for free. [FREE Better Call Saul: Season 1, Episode 1 "Uno" on Amazon. Also on iTunes]
---
If you need a last minute Valentine's gift idea (or if you just happen like reading), Amazon's knocking $20 off the Kindle and highly-rated Kindle Paperwhite from now until the 14th. Plus, they're offering great deals on a variety of Kindle Fire tablets, including the 8.9" Kindle Fire HDX for $180 off its usual price.
---
'Tis the season for movie theater gift card deals. It's true that nothing good comes out at the beginning of the year, but these will keep.
$25 Regal Entertainment Gift Card ($20) | Staples
$25 AMC Theatres Gift Card ($20) | Staples
---
Four, five, and six-port USB chargers have all been very poular among our readers, but how about eight? [Saicoo 60W 8-Port Family-Sized Desktop USB Charger Station, $23 with code MP5GBUSU]
---
$26/TB is one of the best storage deals we've ever seen. [Seagate Expansion 5TB USB 3.0 Desktop External Hard Drive, $130]
---
Choose a combination of gadget-charging accessories for a flat $30. They all have great reviews.
---
The Anker Astro E4 battery pack is one of the most popular items we've ever listed, and you can save $5 today with promo code 8B4LJXIA. [Anker 2nd Gen Astro E4 High Capacity 13000mAh 3A Fast Portable Charger, $25 with code 8B4LJXIA]
---
The Legend of Zelda: A Link To The Past was given the comic treatment many moons ago in Nintendo Power magazine, and now you can own the entire collection. It doesn't ship until May, but preordering will secure you a nice discount. [Preorder Legend of Zelda: A Link to the Past Graphic Novel, $13]
---
I can't say I'm all that familiar with the brand, but these Bluetooth earbuds have solid reviews, and at $30, it might be worth taking out a flyer on them. [Soundpeats Qy7 Mini Lightweight Wireless Earbuds, $30 with code QY7BKPRO]
---
Not long ago, it was nice enough just to find the Moto 360 in stock. Today, it has a $30 discount. [Moto 360, $220]
---
Keep all of your knives as sharp as the day you bought them with this highly-rated adjustable sharpener. It even works on serrated blades. [Smith's Adjustable Knife Sharpener, $15]
---
Your favorite smartphone dash mount is $7 off today with promo code V5Z3DI65. I absolutely love mine.
Note: You must select iOttie as the seller. This link should default you to their listing, but if you click the Amazon widget below, it'll take you to Amazon's listing, where the code won't work. [iOttie One Touch Smartphone Dash Mount, $13 with code V5Z3DI65]
---
Don't settle for Apple's overpriced Lightning cables.
Tech Armor Premium Apple Certified Braided Lightning cable - 6 Feet ($12) | Amazon | Promo code TECHCABL
Aukey MFi-Certified 3' Lightning Cable ($8) | Amazon | Promo code XP2SESID
---
We're in the process of ramping up our Facebook content, and we'd love if you liked us and told your friends to do the same. We promise to put things that you actually want to see in your news feed.
---
Gaming
---
Peripherals
PC
PlayStation 4
Xbox One
PlayStation 3
Xbox 360
Wii U
Vita
3DS
Board Games
Toys
---
Media
---
Movies & TV
Books & Magazines
Apps
Music
---
Tech
---
Storage
Power
Headphones
Home Theater
Computers & Accessories
PC Parts
Phones and Tablets
Photography
---
Inventory
---
Find more deals over on Kinja Deals
Home
Kitchen
Bonus
---
Commerce covers the best products on Kinja Gear, finds you deals on those products on Kinja Deals, and asks you about your favorites on Kinja Co-Op, click here to learn more. We operate independently of Editorial and Advertising, and if you buy something through our posts, we may get a small share of the sale. We want your feedback.