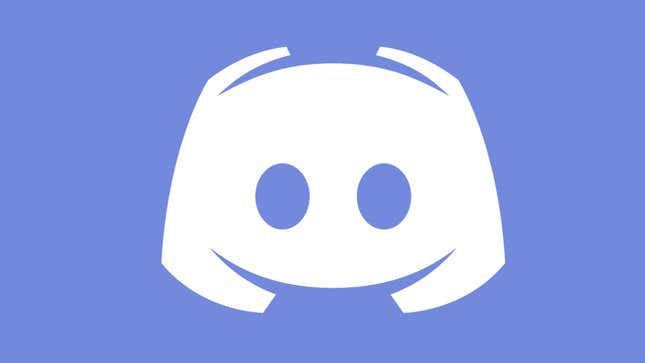 WallStreetBets, the subreddit behind engineering GameStop's record-shattering stock price surge over the past week, has been banned from Discord for hate speech, The Verge reports.

The Top Ten Most Played Games On Steam Deck: March 2023 Edition
GameStop's stock doubled today, rising from the previous day's record of over $150 to a new peak of over $300 a share, all because day traders on the WallStreetBets subreddit decided to try to stick it to the investment world's big hedge funds. It's become a big internet joke, but one with real world consequences, including Discord banning the subreddit's server.
"The server has been on our Trust & Safety team's radar for some time due to occasional content that violates our Community Guidelines, including hate speech, glorifying violence, and spreading misinformation," Discord told The Verge in a statement. "Over the past few months, we have issued multiple warnings to the server admin."
The chat platform went on:
Today, we decided to remove the server and its owner from Discord for continuing to allow hateful and discriminatory content after repeated warnings.

To be clear, we did not ban this server due to financial fraud related to GameStop or other stocks. Discord welcomes a broad variety of personal finance discussions, from investment clubs and day traders to college students and professional financial advisors. We are monitoring this situation and in the event there are allegations of illegal activities, we will cooperate with authorities as appropriate.
In addition to upending the market for certain stocks, like AMC and Blackberry, WallStreetBets is, not surprisingly, also a bastion of internet edgelords. "Like 4chan found a Bloomberg Terminal," reads the Reddit community's description. Commenters there regularly use offensive terms to refer to each other, and also invoke homophobic slurs and other hate speech.
It's unclear how much of this speech was also present on the subreddit's Discord server, or for how long until the platform finally decided to act. The company did not immediately respond to a request for comment.
Update - 7:00 p.m. ET, 1/27/21: The WallStreetBets subreddit was set to private sometime shortly before 7:00 p.m. ET today. "WallStreetBets is under in tents load and is only for approved submitters," the landing page now reads. "In the meantime, please enjoy some spaghetti."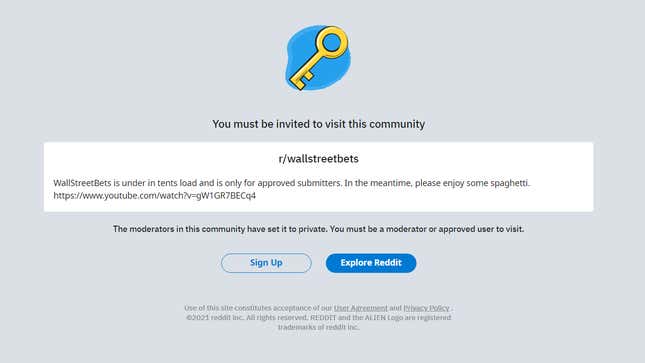 It's not clear exactly why the subreddit went private, but GameStop's stock price took a major hit in after hours trading right around the time it happened, dropping almost $100 in just 15 minutes.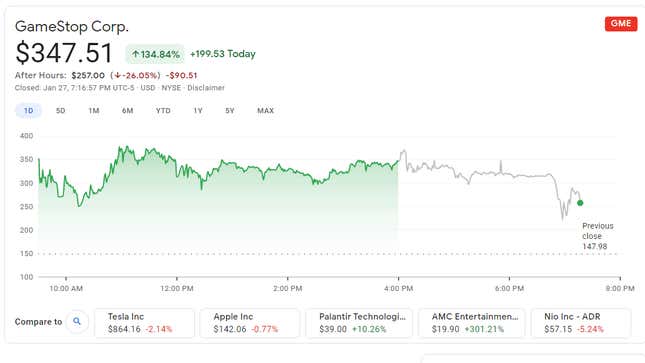 Update - 7:37 p.m. ET, 1/27/21: There's a new note on the WallStreetbets page that says the subreddit is currently down due to "technical difficulties based on unprecedented scale as a result of the newfound interest in WSB."
It goes on:
We are unable to ensure Reddit's content policy and the WSB rules are enforceable without a technology platform that can support automation of this enforcement. WSB will be back.
Update - 8:17 p.m. ET, 1/27/21: The subreddit is back now and with a new message from the mods discussing its exponential growth in recent days.
"We're suffering from success and our Discord was the first casualty," WallStreetBets moderator zjz wrote in a new post tonight. "You know as well as I do that if you gather 250k people in one spot someone is going to say something that makes you look bad. That room was golden and the people that run it are awesome. We blocked all bad words with a bot, which should be enough, but apparently if someone can say a bad word with weird unicode icelandic characters and someone can screenshot it you don't get to hang out with your friends anymore."
The mini-manifesto goes on to take issue with how Discord responded by nuking the server, criticizes people online trying to use the subreddit's name to sell merchandise, says there's "too much political bullshit in a community that was never ever political," and calls for the creation of a single Twitter account called wsbmod to represent the group and speak on its behalf online.