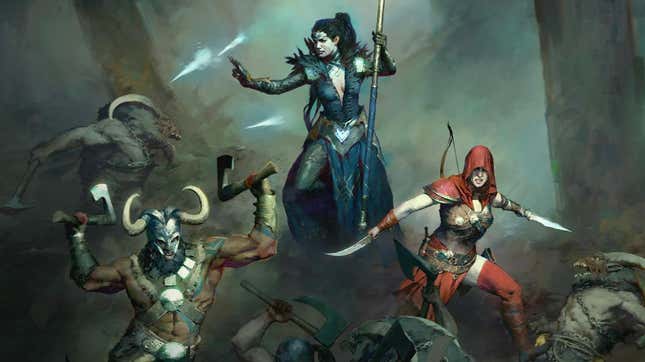 During its successful open beta, action role-playing game Diablo IV had players kicking their feet and blushing their way to hell, and now they can return sooner than they initially believed. Diablo general manager Rod Fergusson clarified on Twitter that, despite what promotional material says, Diablo IV will be available to play in Early Access as early as June 1 at 7 p.m. ET.

The Week In Games: What's Releasing Beyond Diablo IV
Read More: Diablo IV's Beta Has Us Kinda Obsessed With Hell

"Main launch starts on June 5 at [7 p.m. ET]," he continued. "We use June 2 and June 6 for marketing because that's when it's available everywhere globally."
To play Diablo IV during its Early Access period, you'll need to pre-order either a Deluxe or an Ultimate Edition of the game any time before its main launch on June 5.

But anyone can join Diablo's Server Slam event, which begins May 12 at 3 p.m. ET and ends May 14 at 3 p.m. ET. The event will be accessible on PC, Xbox One, Xbox Series X/S, PS4, and PS5, and also include "couch co-op for consoles and cross-play and cross-progression for all platforms," a Blizzard blog says. For the developer, it'll serve as a stress-test.

"Server Slam will give players one final weekend in Hell to experience a fraction of what Diablo IV has to offer, while simultaneously testing the capabilities of our servers prior to launch," the blog says. "The Prologue and entirety of Act I will be your canvas to paint with the remains of slain demons. Fractured Peaks, the first Zone, is yours to navigate as you please."

Read More: Diablo IV's Mounts Are Off Limits When You First Start The Game

Though you'll be able to progress your character—a Barbarian, Druid, Necromancer, Rogue, or Sorcerer—through Level 20, any progress you make during Server Slam will not transfer to the game's launch, and, likewise, you will not be able to access progress made during past open beta events.