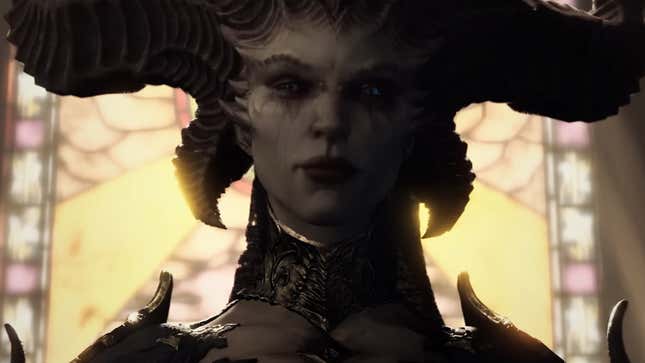 After a decade-long wait, the next chapter in Diablo is finally upon us. With it come dozens of dungeons and a sizable open world filled with legions of demons to slaughter. Millions will no doubt answer the call and take up arms, but Blizzard has now issued a special challenge for those willing to brave the game's toughest difficulty, with victory offering immortality. Well, your name will be carved into a statue, at least.
The Week In Games: What's Releasing Beyond Diablo IV
Diablo IV is the latest in Blizzard's long-running series of classic action RPGs. Set in a dark, twisted fantasy world called Sanctuary, where players must overcome tremendous forces of evil, the game aims to deliver a perpetually satisfying cycle of demon killing and loot hunting. Early reviews suggest a game that will live up to the expectations the series has set, though palpable anxiety over its monetization model remains. For those looking for an even greater challenge than what the normal difficulty can offer, the series' popular hardcore mode returns.
Hardcore mode doesn't, in and of itself, make the monsters you face more difficult. Rather, it means that your hero has but one life to live. Die and see your character permanently deleted, all your hard-earned levels and skills with them. As a special incentive to brave the challenge of potential permadeath while racing up the game's ranks, Blizzard will reward the first 1,000 players to hit level 100 in a unique way, carving their BattleTags into a real, physical statue of the game's antagonist, Lilith.
Read More: Diablo IV Reviews Suggest It's More Of the Same, In A Good Way
Blizzard announced the challenge on the game's official Twitter page on May 26, 2023. The game is expected to go live on June 1 for those who've preordered the game, and with it the challenge to be among the first 1,000 players to hit level 100 in hardcore mode.
In order to be considered for the challenge, Blizzard is asking players to submit proof of their victories with a photo or video submission and a public tweet using the #Diablo4Hardcore hashtag alongside their Battle.net BattleTag.
The challenge will run until 1,000 players hit level 100 in hardcore mode. If less than 1,000 players hit this mark by September 1, those who have met the challenge up to that point will be honored.
As is to be expected, Blizzard has also published a lengthy list of terms and conditions for the challenge, which you should take a gander at if you're curious.