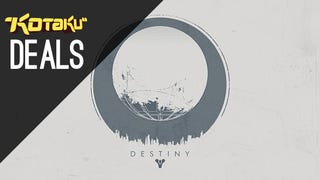 You're running out of chances for the Destiny Limited Edition to come back in stock before the game releases. Grab it today.
---
We've got a whole lot of peripherals deals so let's get into it.
The Razer DeathAdder scored the win in last year's Best Gaming Mouse Co-Op, our biggest vote ever, and today it's available for just $40. [Razer DeathAdder]
The Astro A50 is the Best Gaming Headset. Yesterday's awesome deal on the refurb models sold out, but you can still take 20% off a new model, or get the A40 for $143 at Astro's eBay Store. [Astro]
The Sony Gold Headset is another of your Best Gaming Headset nominees, get it with a $50 gift card from Dell today. [Sony Gold Headset]
The Logitech G510s is one of you Best Gaming Keyboard contenders, and you can snag a refurb model for a low 50 bucks today. [G510s]
Need more Dualshock 4s? They're $45 or less today. Everyone can use code LABORDAY10 to get 10% back in credit, new customers can use code NEW10 to bring the base price down to $35. [DualShock 4]
---
Get these deals and more, and earlier on Deals.Kinja. Connect with us on Twitter and Facebook to never miss a deal, check out our Gaming and Movie/TV release calendars to plan your upcoming free time, and join us for Kinja Co-Op to vote on the best products. Got a deal we missed? Post it in the comments with a link and we'll share right to our Deals homepage.
---
Any 60" 3D TV for $700 would be a good deal. The fact that it's an LG plasma makes it a great deal. [LG 60-Inch Plasma 1080p 600Hz Smart 3D HDTV, $700]
---
This 40 watt USB charger is great for your night stand, your desk at work, and especially for traveling. [Anker 40W 5-Port USB Charger, $20 with code 20DF7105]
---
This power strip pivots to help accommodate those annoying wall warts, and you can grab one for $5 right now. [Quirky Pivot Power Pop Junior, $10]
---
It doesn't get much better than 10,000mAh for $17. [Omaker Brilliant 10000mAh Dual USB Portable Charger , $17 with code OMAKER88]
---
Today's Amazon deal of the day features over 1,000 discounted Kindle books that are meant to help students, but anyone who wants to pick up some new skills should take a look at the selection.
The stars of the show are O'Reilly computer skill books for as little as $4, but there are also business self-help books, language-learning titles, and even some non-fiction history volumes and biographies from the likes of the New York Times. Even if you don't own a Kindle, you can read these titles on pretty much any electronic device you own, so you're officially out of excuses to avoid learning Python. [Amazon]
---
You need to buy laundry detergent, cleaning supplies, and paper towels anyway, so you might as well get a $10 Target Gift Card with your purchase. Just choose three eligible household items to get the deal. Dozens of items are available, so you should be able to find your favorites. [Buy Three Household Essentials, Get a $10 Target Gift Card]
---
Gaming
---
Peripherals
PC
PlayStation 4
Xbox One
PlayStation 3
Xbox 360
Vita
Wii U
3DS
Board Games
Toys
---
Media
---
Movies & TV
Books & Magazines
Apps
---
Tech
---
Home Theater and Headphones
PC Parts
---
This post is brought to you by the Commerce Team. We work together with you to find the best products and the best deals on them. We operate independently of Editorial, and we want your feedback.