We're bringing you the deals early today to get out of the way of Microsoft's presser, and even more scheduling info below. In addition to a pile of other great deals, Humble has partnered with Twitch for the "E3 Digital Ticket", a 12 game bundle that also includes a month of Twitch Turbo. List below. [Humble]
Sid Meier's Civilization III: Complete (2K Games / Firaxis Games)
Landmark Beta keys (Sony Online Entertainment)
PAYDAY 2 exclusive items (505 Games / Overkill Software_
EVE Online 30 day trial and DLC (CCP Games)
SMITE Almighty Zeus Bundle (Hi-Rez Studios)
Company of Heroes 2 DLC pack (SEGA / Relic Entertainment)
Total War: ROME II Nomadic Tribes DLC (SEGA / Creative Assembly)
Warframe DLC pack (Digital Extremes)
Magicka: Wizard Wars DLC (Paradox Studios)
Anomaly 2 (11 Bit Studios)
MX vs ATV Reflex (Nordic Games)
One free month of Twitch Turbo (Twitch)
Customers who pay more than the average price will receive all of the above, plus:
Mortal Kombat Arcade Kollection (Warner Bros. Interactive Entertainment / NetherRealm Studios)
---
New Deal Times, Same Deal Channels
In an effort to bring you the deals faster and with fewer expirations and price changes, as of today we're bumping all of our segments to earlier time slots. Schedule as follows:
12:45pm ET - Kotaku and Gizmodo
1:15pm ET - Lifehacker and io9
1:45 ET - Deadspin and Jalopnik
Stay tuned for more exciting news coming out of the Commerce Team very soon.
---
G/O Media may get a commission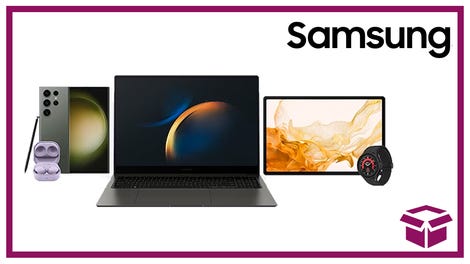 24 hour deals
Discover Samsung - Daily Deal
Offering several free games every month, plus dozens of exclusive deals, PlayStation Plus is one of the best deals in gaming. Today, Best Buy is selling a 12 month subscription for $10 off. If you own a PlayStation or Vita, this is a must-own. [PlayStation Plus 12 Month, $40]
Playstation 4 ($360) | eBay
Sony PlayStation 4 and PlayStation Vita with Borderlands 2 Bundle ($560) | Best Buy
Sony Gold Wireless Stereo Headset for PS4 ($80) | eBay
---
Logitech's Peripherals Are All Discounted, From Mice to Joysticks
Check out the list below or hit the link for more coverage/info and bonus deals.
---
Stock Up on Speedy SanDisk Storage, On Sale Today Only
---
If you've been waiting for a good deal to pick up a new iPad, you've got a ton of options to choose from today.
---
Anker is currently taking 10% off of some of their already-affordable charging gadgets for Father's Day. Promo code LOVEDAD1 will score you the discount.
Anker 24W Portable Dual-Port USB Car Charger ($9) | Amazon | Promo code LOVEDAD1
Anker 2nd Gen Astro3 12000mAh (4A Output) Portable Charger Triple USB External Battery Pack ($41) | Amazon | Promo code LOVEDAD1
Anker 40W 5-Port Family-Sized Desktop USB Charger ($24) | Amazon | Promo code LOVEDAD1
---
Whether you're rolling your own home security system, setting up a nanny cam, or even broadcasting to the world, Dropcam has set the standard for simple, smartphone-connected home monitoring. The rarely-discounted Dropcam HD is $20 off today, so if you've been on the fence, this is a great opportunity to save. [Dropcam HD, $130]
---
Everyone should own a good cast iron skillet, and Lodge makes the best around. With proper care and cleaning, this will last you the rest of your life, and it even ships with a silicon handle cover for easier gripping. [Lodge 12" Cast Iron Skillet, $24]
---
Games

PC
PS4
Xbox One
PS3
Wii U
Vita
3DS
Board Games
Apps
Spend $65 on an iTunes gift card today, and get $15 for free.
iOS
Android
Movies and Television
Television
Books
Home Theater
PC Parts
Home
Inventory
---
See all the upcoming releases here .
June 10
Enemy Front | PS3/360/PC
True Detective | Blu-ray
June 17
EA Sports UFC | PS4/One
The LEGO Movie: Everything Is Awesome Edition | Blu-ray | Also available in standard edition
House of Cards Season Two | Blu-ray
June 24
Transformers: Rise of the Dark Spark | PS4/PS3/One/360/Wii U/3DS/PC
Plants vs. Zombies: Garden Warfare | PC
BlazBlue: Chrono Phantasma | Vita
Star Trek: The Next Generation Season Six | Blu-ray
Orphan Black Season Two | Blu-ray
June 30
Divinity: Original Sin | PC/Mac
---
July
---
July 1
Child of Light | Vita
July 8
One Piece Unlimited World Red | PS3/Vita/3DS | Pre-order for Day One Edition
July 29
Hyperdimension Neptunia Re;Birth1 | Vita
Twin Peaks: The Entire Mystery | Blu-ray
Herzog: The Collection limited edition | Blu-ray
---
August
---
August 5
Sacred 3 | PS3/360
Akiba's Trip: Undead and Undressed | PS3/Vita
August 12
Disgaea 4: A Promise Revisited | Vita
Hohokum | PS4/PS3/Vita
August 19
Diablo III: Ultimate Evil Edition | PS4/One/PS3/360
August 22
Tales of Xillia 2 | PS3
August 26
The Walking Dead Season 4 Limited Edition | Blu-ray | Also available in standard edition
---
September
---
September 2
Danganronpa 2: Goodbye Despair | Vita
September 9
Destiny | PS4/PS3/One/360 | Pre-order for Beta access
---
October
---
October 7
Dragon Age: Inquisition | PS4/One/PS3/360/PC
Dragon Age: Inquisition Deluxe | PS4/One/PS3/360/PC
Alien: Isolation | PS4/PS3/One/360/PC
Middle-earth: Shadow of Mordor | PS4/PS3/One/360/PC
DriveClub | PS4
October 12
Fantasia: Music Evolved | One/360
October 14
Borderlands: The Pre-Sequel | PS3/360/PC/Mac
October 21
The Evil Within | PS4/PS3/One/360/PC
---
November
---
November 18
Far Cry 4 | PS4/One/360/PS3/PC
---
December
---
December 2
---
This post is brought to you by the Commerce Team, a dedicated group of deal hunters and product enthusiasts. We operate independently of Editorial to bring you the best bargains every day, share our favorite products with you, and ask you about yours. When you buy something we recommend, we may also get a small share of the sale. We welcome your questions and want your feedback.