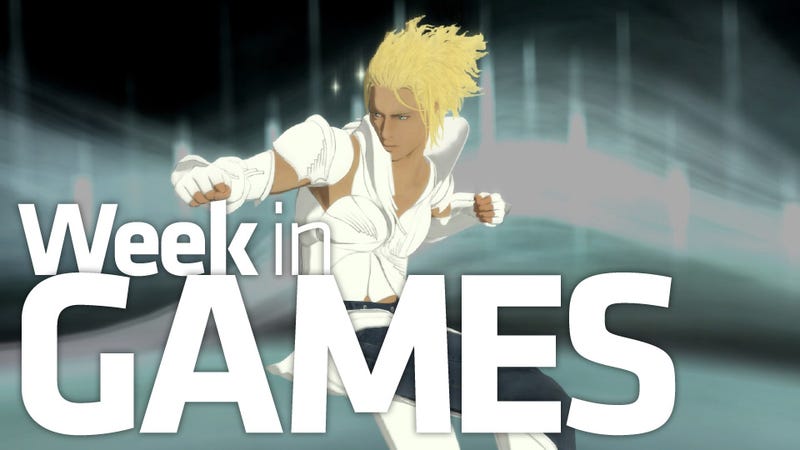 El Shaddai: Ascension of the Metatron releases this week, along with the free-to-play launch of Age of Empires Online. Toy Soldiers: The Cold War rounds out Xbox Live's Summer of Arcade, and From Dust comes to PC.
Tuesday
• Age of Empires Online (PC)—At a time when real-time strategy games are slinking away to the casual sector, this venerable brand tries to bring a hardcore gameplay ethic to the free-to-play model, You'll get out of it what you put into it, and that means money.
• El Shaddai: Ascension of the Metatron (PS3, 360)—Drawing on Japanese influences, Western themes and Biblical parables, El Shaddai has stoked critical attention since its coming-out at E3 2010. It's an epic tale blended with platforming gameplay and a unique, anime-inspired art style with stained-glass motifs.
Also: Bastion (PC); No More Heroes: Heroes Paradise (PS3); Puzzler World 2 (DS)
Wednesday
• From Dust (PC)
• Toy Soldiers: Cold War (XBLA)
Looking Ahead
Aug. 23: Deus Ex: Human Revolution. Aug. 30: Madden NFL 12. Sept 6: Driver: San Francisco, Dead Island, Resistance 3, Warhammer 40,000: Space Marine. Sept. 13: Red Orchestra 2: Heroes of Stalingrad, NHL 12. Sept. 20: Gears of War 3
What are you getting? What do you want? What are you looking forward to? Sound it off below, and at #twig.
Sources: Video Game Release Calendar; GameStop
---
You can contact Owen Good, the author of this post, at owen@kotaku.com. You can also find him on Twitter, Facebook, and lurking around our #tips page.