DC Universe Online is not a PlayStation 4 original. It's not a recently-released big budget third-party title. It's not an indie darling. It's a nearly three-year-old, free-to-play, massively multiplayer online role-playing game — a different sort launch title, with a different set of issues.
These Great Fortnite Creative Maps Show Us What's Possible
First off, let me say how excited I am to finally see an MMORPG show up in a game's launch lineup at all. We've seen plenty of console MMO games, from 2000's Phantasy Star Online for the Dreamcast to Final Fantasy XIV on PlayStation 3 and soon PlayStation 4, but they don't generally make it out on launch day. Servers need to be tested, stability needs to be maintained — there's a lot to do.
DC Universe Online, however, was already running on the PlayStation Network. All the ties were in place, so all Sony Online Entertainment had to do is make the game run on the PlayStation 4. And run it does, eventually.
Unlike other launch tiles with large downloads, DDC Universe Online isn't taking advantage of the PlayStation 4's ability to play games while download them, at least not completely. Players can create a new character, go through the tutorial, and then enter whichever player hub is dictated by their choices, but they can't leave. Not until the game's full 28 gigabytes is download. Existing characters cannot log in unless they were camped in one of those hubs.
G/O Media may get a commission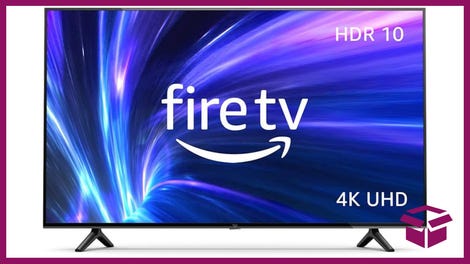 42% Off
Amazon Fire TV 50" 4K Smart TV
PlayStation 4 players, utilizing the same servers as PS3 and PC players, seem to be taking the wait in stride. They wander about the home base. Sometimes they follow complete strangers around for no reason.
In case it wasn't clear (it isn't), here's how to check your download status for a PlayStation 4 game. Go to the home screen, highlight the game, hit the 'OPTIONS' button and then choose 'Information.' That's where you'll find how much of DC Universe Online's 28 gigs you've gotten so far.
It took me around 8 hours over wireless, but eventually I got in and wandered about a little.
The game looks great on the PlayStation 4, thanks to the combined efforts of Sony Online Entertainment's recent graphic touch-up for PC and PS4, and the new console's graphical prowess, pushing PC-quality to my television at 1080p.
There are still issues, as one would expect in an MMORPG for a sytem that didn't have a real player base until today. For instance, all of my characters share the same name on the select screen.
I do not remember naming a character Biotch at all.
New players can expect a little ribbing from the PC and PS3 crowd as well, who seem to be having a good time laughing at the know-nothing antics of a fresh batch of newbs.
Like I said, it's a different sort of PlayStation 4 launch game — a title with an established audience who suddenly have an all-new way to play. It might not be the freshest game, but it's the first in what's sure to be a long line of MMORPG games to grace North American this generation, paving the road for an even more connected console experience than ever before.