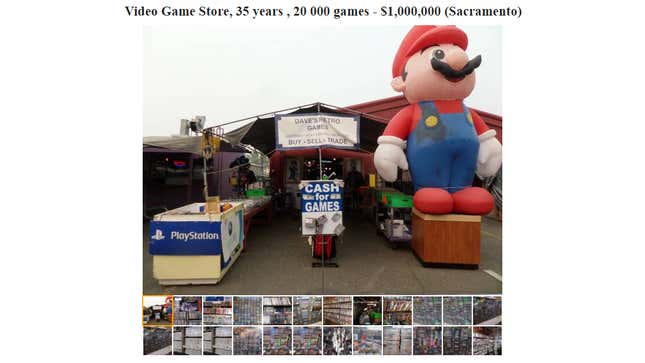 Hey, do want to own a retro video game store in California? And (this is important) are you not Elon Musk? Well, good news, someone is selling a game store, its entire stock, and even its 15-foot-tall Mario effigy on Craigslist right now, all for a cool $1,000,000. Why? Because the current owner just wants to retire after running the place for three-odd decades.
The Top 10 Most-Played Games On Steam Deck: August 2023 Edition
Located in Sacramento, California, Dave's Retro Games opened in the late 1980s. As chronicled in an article published by Rio Miranda High School in 2018, the store's owner and founder, Dave Smith, started selling games back in the early '80s at flea markets in Roseville, California. Eventually, he was making more money selling games on the weekend than he did in his normal job, so he quit and opened his own store. For the last 35 years the place has become a local favorite due to its huge selection and cozy atmosphere. However, after decades of collecting, buying, and selling video games, it seems Smith is ready to retire.

On June 25, Smith posted an ad on Craigslist titled "Video Game Store, 35 years, 20,000 games - $1,000,000 (Sacramento)." And as the title suggests, Smith is selling his huge collection of games, consoles, accessories, and more to anyone who has a spare million dollars to spend.

You can see Smith and his store in this local news segment from earlier this year:
What all do you get for $1 million?
In the ad, Smith pitches any potential buyers with the idea that this store could be handed over to a "gamer child over 21 that won't leave the house." Smith says buying this store for your "gamer child" is a "small price to pay to get him or her to leave."

So what does $1 million get you? (The ad notes that the price is $1.5 million if your name is Elon Musk.) Well, you get the store, all the stuff in it, even its giant, inflatable-lookin' Mario and all the games in his garage. Smith says his garage is so full of video games he no longer has room for his car. The owner estimates he has over 20,000 games in his vast collection.
Kotaku has contacted Smith for comment.

So why he's calling quits and selling the place? I mean, beyond the fact that he sounds like he wants his garage back. Well, according to Smith, he's just ready to stop working, writing bluntly in his ad: "Just pay the money. I am ready to retire." Buddy, I hear you.