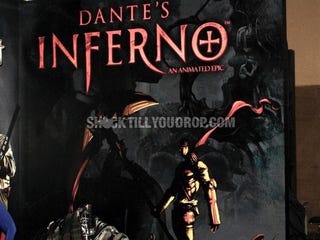 Dante's Inferno is getting a video game called Dante's Inferno. It's also getting a cartoon based on the game called, wait for it, Dante's Inferno.
So they've enlisted the assistance of Film Roman (the same team behind the animated Dead Space flick, Downfall) to oversee a Dante's Inferno animated feature. All that's known at this stage is that the film will be straight-to-DVD.
This art was spotted at Anchor Bay's Comic-Con booth.
SDCC '09: Artwork from Dante's Inferno [ShockTillYouDrop.com]