The meltdown and collapse of 38 Studios not only halted the development of a potentially promising game in progress, but also hurt plenty of people.
The Week In Games: Fishing For Mysteries And Gang Wars
In a recent interview with Boston-area sports radio network WEEI, studio founder Curt Schilling—formerly a major league baseball pitching star—explained how the studio collapse hit him, personally.
In addition to the now infamous $75 million loan that 38 Studios received from the state of Rhode Island, Schilling invested approximately $50 million of his own income and savings into the company, he told WEEI. Money which is now all gone. Schilling related the story of explaining the bankruptcy of 38 Studios to his family:
[T]he money that I had earned and saved during baseball was probably all gone. And that it was my fault. And that they might start hearing some things in school and things like that. And let's be clear: We're not talking about a terminal illness or somebody during. But it's a life-changing thing. It's not a conversation I would wish on any father, or on anybody. But I had to do it, and explain to them that part of growing up is being accountable. This was my decision to do this, and I failed. And life would probably start to change and be very different for us.
G/O Media may get a commission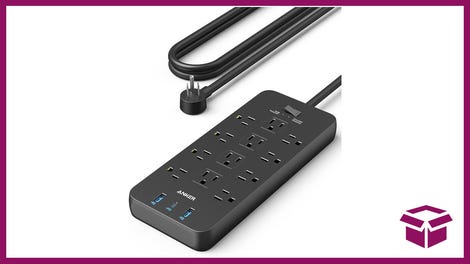 28% Off
Anker Power Strip Surge Protector
Schilling himself never drew salary from 38 Studios, and while he admitted that salaries for other employees may have been slightly excessive, he said it was the only way to draw top talent.
And why did 38 Studios fail? A lack of financial investment. But not, apparently, a lack of emotional one. "Listen, we absolutely made mistakes," Schilling said. "But everything I've ever done in my life has been from my heart."
Curt Schilling on D&C: 'I'm not asking for sympathy' after losing $50M in business collapse [WEEI, via ESPN]
(Top photo: Former Boston Red Sox pitcher Curt Schilling, center, sits in the back seat of a vehicle as he departs the Rhode Island Economic Development Corporation headquarters in Providence, R.I., Monday, May 21, 2012. Schilling and Rhode Island's economic development agency met Monday to discuss the finances of his troubled video company. | AP Photo, Steven Senne)