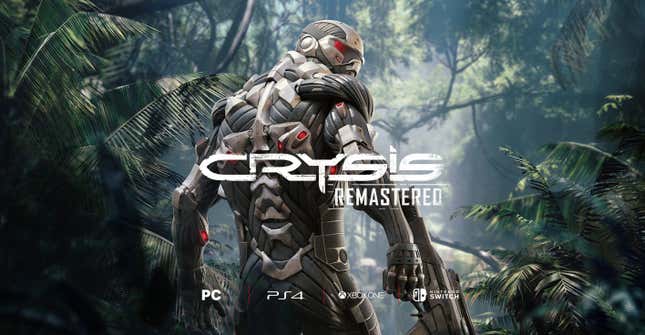 It was there and then it was not there, as multiple people spotted a teaser image on the website for the first-person-shooter Crysis this morning. That teaser promises that a Crysis Remastered will be released for PS4, Xbox One, PC and Switch. Update: It's official and coming out this summer.

This Adventure Game Wants You To Leave Society
The main image hyping the news has since been removed, as has a details-spilling cookie policy page cited by gaming site IGN. That page now just loads a 404 error. The Crysis twitter account has been teasing an announcement for days.
Originally released in 2007 and developed by German studio Crytek, Crysis presented the power fantasy of being a super soldier who wears a powerful Nanosuit that lets a person jump higher, move faster and hit harder than everyone else. It was, for years, a standard-bearer for PC gaming graphics, launching the meme and marketing idea that anyone buying or building a PC rig should be able to answer the question: "Can it run Crysis ?" The game was ported to consoles, specifically the Xbox 360 and PS3, four years after release. It has never been on a Nintendo console, meaning a Switch version would be a notable debut.
Fun fact: the game is set in 2020. Where or where are our nanosuits, everyone?
While Crysis Remastered is all but confirmed, an inspection of crysis.com's source code does reveal one eyebrow-raiser: <meta name="keywords" content="Crysis, FPS, Crytek, Video game, April Fool, launch">
Update 4/14 2:30 PM: Developer Crytek confirmed Crysis Remastered via press release this afternoon. The updated version is being co-developed with Saber Interactive for PC, PlayStation4, Xbox One and Switch. It features the original campaign enhanced with high-quality textures, an HD texture pack, improved art assets, temporal anti-aliasing, SSDO, SVOGI, state-of-the-art depth fields, new light settings, motion blur, parallax occlusion mapping, and particle effects.The release also lists advanced features like software-based ray-tracing and volumetric fog.
Here's the teaser trailer.