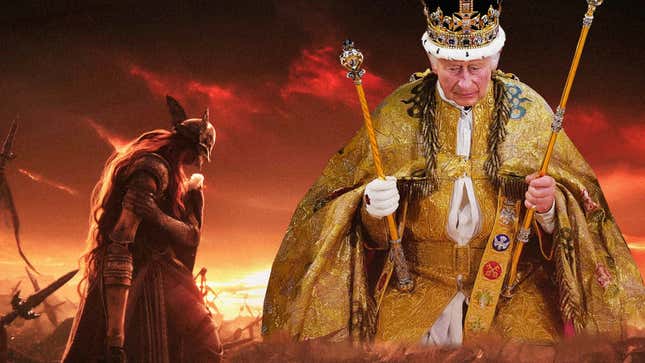 Charles Philip Arthur George, aka Charles III, was officially crowned the King of England on May 6. The coronation, which took place at the Westminster Abbey Anglican church in London, was expectedly gaudy and lavish, overflowing with enough gold and jewels to make you blind with all the incessant sparkling. Never mind the difficulty of living in England thanks to the exorbitant costs of living as roughly 40 percent of the population is poised to slip into poverty, the coronation was lavish and over-the-top.
Diablo IV Druids, Do This ASAP To Unlock Some Powerful New Abilities
But we're not here to talk about that. Instead, we'll look at the memes inspired by that coronation. From Elden Ring to Star Wars, some have left me weak.
Gamers meme King Charles III's Coronation
Naturally, gamers took to Twitter to meme the hell out of the absurd event. Some related King Charles III's attire, replete with ostentatious staves and an opulent crown and stolen jewels from South Africa (thanks colonization), to grinding XP for tons of hours.
Others saw members of the coronation and immediately thought they were trying to perfect a faith or strength build from Elden Ring.
Do you know pesetas? They are the currency in Spain, but they're also featured in Resident Evil 4. Well, what if you could buy King Charles III's crown in Capcom's survival horror shooter? You can't. Still, someone joked that if you could, the crown with the stolen jewel would sell for 100,000 pesetas. Or just about $662 USD. That's not a whole lot for something this gaudy.
There were people that stretched the meme to pop culture references, like wondering if Star Wars' Snoke, the supreme leader of the First Order, wore the golden robe better than King Charles III. (Spoiler: Snoke did wear it better.) Folks also replaced King Charles III's crown with the Burger King one.
And of course, because King Charles III is in his 70s now, there are memes clowning his age. Yeah, it's totally ageist, but some are still pretty hilarious.
There is no shortage of coronation memes to pick apart online. My fave, though, besides the silly Elden Ring ones, is this one that's not exactly a meme as much as it is a chant during a Scottish football game in which the crown screams for the UK to "shove your coronation up your ass." Brilliant.