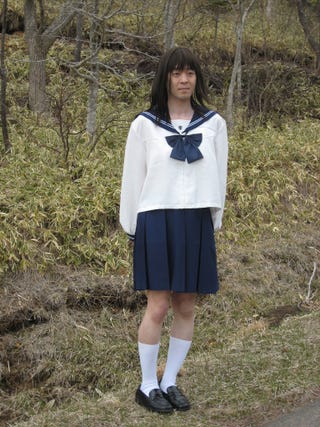 Kotaku East
East is your slice of Asian internet culture, bringing you the latest talking points from Japan, Korea, China and beyond. Tune in every morning from 4am to 8am.
Cosplay is a fine hobby. Heck, if you are into cross-dressing, that's fine—who am I to judge? But flashing people is not cool. Flashing schoolgirls is definitely not cool. And neither is flashing schoolgirls while dressed as a schoolgirl.

According to Japanese media reports, a 37 year-old policeman was arrested for exposing his genitals to a 16 year-old female. The officer was dressed in a sailor-style schoolgirl uniform when he flashed the girl.
On the evening of March 11, the officer, Kazuya Tsukada (not pictured), entered an apartment elevator the same time as a schoolgirl. Tsukada apparently told the girl, "Look at me" as he got out of the elevator, exposing himself. Police took Tsukada into custody shortly thereafter at the nearby train station. He was dressed as a schoolgirl, wearing a wig and not wearing underpants. He later admitted that he'd flashed women before.
"By using polite Japanese when saying 'Look at me,' Tsukada shows he is a straightforward person at heart," Meiji University lecturer Osamu Seki told tabloid Nikkan Gendai (via Tokyo Reporter. "He would be the type of cop who couldn't bring himself to patronize a sex shop. His walking around in public close to where he committed his crime may indicate he had a latent desire to be apprehended."
Policeman in schoolgirl uniform arrested for flashing [Japan Today]
(Top photo: ニューズまとめスパ)