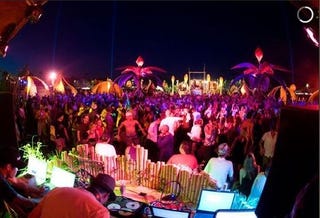 Sony will, once more, be hosting a PlayStation Lounge at the annual Coachella Valley Music & Arts Festival this weekend.
This time around the PlayStation Oasis will include a bevy of PlayStation 3 consoles, lounge chairs, internet connectivity and, best of all, air conditioning. The Oasis will be showing off a selection of games for the PS3 including LittleBigPlanet, Fat Princess, Buzz, InFamous, Ratchet & Clank Future: A Crack in Time, Flower, PixelJunkEden and Crash Commando.
Sony Computer Entertainment of America will also be donating to Global Inheritance once they receive 1,000 text messages from the show.
Coachella runs from April 17 to April 19 in Indio, California.