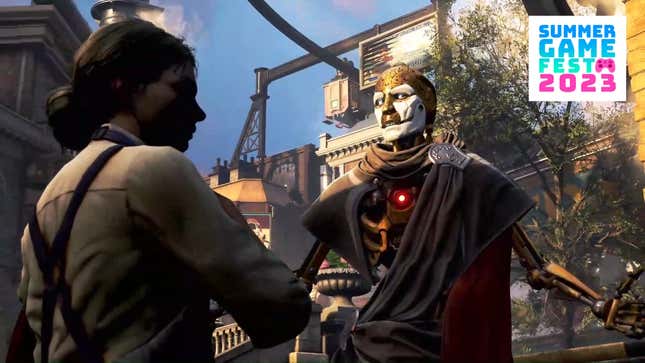 InXile announced the new game Clockwork Revolution during the Summer Game Fest Xbox Showcase. Looking like if Dishonored were made on the sets of BioShock, this RPG is set in an alternate universe of clockworkpunk.
This New Fantasy Beat 'Em Up Is Like Dragon's Crown With Druids
A complete surprise during Microsoft's event, this marks the first new project from RPG gurus InXile—best known for Wasteland 2 and 3 and the PlaneScape: Torment sequel, Tides of Numenera. Co-founded by Brian Fargo, the studio was bought by Microsoft in 2018, making this its first new project since. And from the announcement trailer, it looks as though it could be a doozy.
Moving on from InXile's traditional isometric CRPG design, this is a first-person RPG far more in the style of BioShock and Dishonored. From what we see here, the game's city is a steampunk-adjacent reality, where clockwork mechanisms seem at the heart of all machinery.
Described as a "time-bending steampunk first-person RPG," by the game's YouTube description, we're informed that this city, Avalon, is discovered after our character travels back in time. It seems the city has been "carefully crafted through the alteration of historical events," meaning we're set to travel back to other points to trigger butterfly effects in the future.
A post that's just appeared on Xbox Wire suggests the game is enormously ambitious.
Through unprecedented and complex visual and narrative depth, the choices you make on your trips into the past will change the people, the stories, and the city of Avalon itself in extraordinary and (very often) unexpected ways.
If it's suggesting that players can choose what those changes are, rather than their being scripted elements of the game, then this could get incredibly interesting.
Despite just how lush the footage looks in the trailer, InXile is calling this "pre-alpha," with no hint of a release date just yet.
---
Kotaku is covering everything Summer Game Fest, from the main show on Thursday to other events happening throughout the next week. Whether you're into larger-than-life triple-A games or intimate, offbeat indies, you can keep up with all things SGF here.