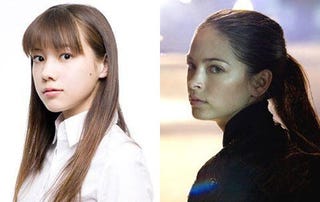 That's Kristin Kreuk. She's Chun-Li in the upcoming Hollywood flick Street Fighter: The Legend of Chun-Li. Next to her?
That's Riisa Naka. Today she was announced as the Japanese language voiceover dub Chun-Li. She's a quarter Swedish and voiced the lead character in anime The Girl Who Leapt Through Time — and an episode of Ultraman Mebius.
So if you go see this movie in Japan and want to watch it in Japanese, well, you'll be hearing her voice.
『ストリートファイター ザ・レジェンド・オブ・チュンリー』で日米の美女がタッグ [Famitsu]